November 6, 2023
Ghallu Ghallenutha Gejje Lyrics
Ghallu Ghallenutha Gejje Lyrics: Ghallu Ghallenutha Gejje is a popular Kannada Folk song known as Janapda Haadugalu in Karnataka. These songs were passed on from generation to generation, whose writers remain anonymous.
These are the songs created by ordinary people but they have extraordinary emotion, feeling and devotion in them. They have created songs for all kind of emotions, situations and celebrations. Over the years many musicians like Madhu Balakrishna, Nanditha, BK Sumitra, Y.K. Muddukrishna, Divya Ramachandra, K.S. Surekha, G. Siddaraju, and others have recreated this song.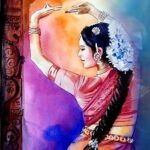 Ghallu Ghallenutha Gejje Lyrics
Genre: Folk / Janapada
Language: Kannada
Music: Janapada
Lyrics: Janapada
Singer: Various
Check 'Ghallu Ghallenutha Gejje Lyrics' Here..
Ghallu Ghallenutha
Gejje Ghallu Saajenutha
Gejje Ghallu Saajenutha
Ballida Rangan Valliya Myaale
Chellidarokuliyo
Nam Ballida Rangan Valliya Myaale
Chellidarokuliyo
Ghallu Ghallenutha Gejje
Ghallu Saajenutha
Ballida Rangan Valliya Myaale
Chellidarokuliyo
Aredaru Arishinava
Adake Beredaru Sunnava
Andavulla Rangan Myale
Gandhadokuliyo
Andavulla Rangan Myale
Gandhadokuliyo
Haalinokuliyo
Olle Leeladokuliyo
Olle Leeladokuliyo
Lolanada Rangan Myale
Haalinokuliyo
Lolanada Rangan Myale
HaAlinokuliyo
Thuppadokuliyo
Olle Oppadokuliyo
Olle Oppadokuliyo
Oppavulla Rangan Myaale
Thuppadokuliyo
Oppavulla Rangan Myaale
Thuppadokuliyo
Gandhadokuliyo
Olle Chandadokuliyo
Olle Chandadokuliyo
Andavaada Rangan Myale
Ranginokuliyo
Andavaada Rangan Myale
Ranginokuliyo
Gallu Gallenutha Gejje
Gallu Saajenutha
Ballida Rangan Valliya Myaale
Chellidarokuliyo
Search Terms
gallu gallenutha gejje song, gallu gallenutha gejje song lyrics, gallu gallenutha gejje lyrics in english, ghallu ghallenutha gejje song, ghallu ghallenutha gejje song lyrics, Ghallu Ghallenutha Gejje lyrics in english, bk sumitra songs, b. k. sumitra nambide ninna nagabharana, b. k. sumitra kannada devotional songs, b. k. sumitra gangamma gowramma, b. k. sumitra aigiri nandini, bk sumitra shukravaara bandaaga, bk sumitra janapada geethegalu, bk sumitra nimbiya banada, kannada janapada, kannada janapada uttara karnataka, kannada janapada hadu, kannada janapada, kannada janapada feeling songs, kannada janapada dj song, uttara kannada janapada songs, kannada janapada singer-songwriter, kannada janapada play, kannada folk songs, kannada folk dance,kannada folk songs for dance, kannada folk songs list, kannada folk songs lyrics, kannada folk singers,kannada folk stories, uttara karnataka janapada hadu, uttara karnataka kannada janapada, uttara karnataka janapada haadugalu, c s ashwath songs, c ashwath bhavageethe songs, c ashwath kannada song, c ashwath songs, c ashwath aura, c ashwath song list, c ashwath bhavageethegalu, c ashwath best songs, c ashwath bhakti song, c ashwath bhavageethe kannada song, Gallu Gallenutha Gejje song, Gallu Gallenutha Gejje song lyrics, Gallu Gallenutha Gejje lyrics in english, Ghallu Ghallenutha Gejje song, Ghallu Ghallenutha Gejje song lyrics, Ghallu Ghallenutha Gejje lyrics in english, kannada traditional folk song
Comments
comments