July 8, 2018
Gharshane Gharshane Lyrics | Appaji
Gharshane Gharshane Lyrics | Appaji: Gharshane Gharshane is a Kannada song from the movie Appaji, directed by by D. Rajendra Babu and written by K. V. Vijayendra Prasad. The film was produced by H. S. Janakiram and C. S. Manju under Surya International banner.
The film was released in 1996 starring Sahasa Simha Vishnuvardhan, Aamani, Pankaj Dheer, Sharanya, Krishne Gowda, Doddanna, Brahmavar, Lakshman, Sihikahi Chandru, Keerthi, M. S. Karanth, Vijayasarathi and others. Jhankar Music is the music label of this movie. This song was composed by M. M. Keeravani with lyrics penned by R. N. Jayagopal. Gharshane Gharshane song was rendered by great singer S. P. Balasubrahmanyam.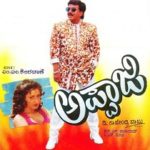 Gharshane Gharshane Lyrics
Movie: Appaji [1996]
Music Label: Jhankar Music
Music: M. M. Keeravani
Lyrics: R. N. Jayagopal
Singer: S. P. Balasubrahmanyam
Check out the lyrics here..
Gharshane Gharshane Gharshane Gharshane |2|
Panchajanya Molagithu Kurukshethra Kareyithu
Dharmakku Adharmakku Gharshane Gharshane
Phalanethra Thereda Haranu Kenda Maleya Surisidanthe
Nyayakku Anyaayakku Gharshane Gahrshane
Gharshane Gharshane Gharshane Gharshane
Panchajanya Molagithu Kurukshethra Kareyithu
Dharmakku Adharmakku Gharshane Gharshane
Hrudaya Agni Kundadali Bhugileddide Dhwesha Jwaale
Ugra Naarasimhananthe Naa Dharisuve Karula Maale
Pralaya Rudrananthe Koduve Vairigala Raktha Tharpana
Rakksara Shirave Ninna Paadagalige Nanna Arpana
Chakra Vyuha Koteyali Kapata Mosa Sanchinali
Appaji Nimma Bali
Saidhavan Thale Thegeda Paarthananthe Koduve Naa
Rakthada Shraddanjali
Mruthyu Banda Haadi Indu Jaraasandha Madiyali
Maarigindu Outhanavu Bisi Neththara Kudiyali
Naya Vanchaka Narigala Kootavindu Muriyali
Nammellara Krodhaagni Sidideddu Uriyali
Dharmakku Adharmakku Gharshane Gharshane
Gharshane Gharshane Gharshane Gharshane
Panchajanya Molagithu Kurukshethra Kareyithu
Dharmakku Adharmakku Gharshane Gharshane
Mangalyam Tantunanena Mama Jeevana Hetuna
Kanthe Badhnami Subhage Twam Jeeva Sarada Satam
Anna Madida Jaagadalle Sapthapadiya Naavu Thuliyuva
Saavina Cheethkaaradalle Manthra Goshavannu Beresuva
Pruthvi Uriva Agni Ide Vadhu Varara Naduvinalli
Antharpata Vaagali
Harida Runda Munda Chello Paathakara Rakthadalli
Kanyadhaare Aagali
…………. Parasuraamanaaguve
Appaji [1996] Kannada Songs
Yene Kannadathi Nee Yaake Hingadthi
Yaava Deva Shilpi Kadedano Ninna
Baanu Yello Kaanenu
Gharshane Gharshane
Balu Dambada Jambada
Comments
comments