January 30, 2018
Hele Meghave Lyrics | Rajaratha
Hele Meghave Lyrics | Rajaratha: Hele Meghave is a song from an upcoming 2018 Kannada movie Rajaratha, written and directed by Anup Bhandari. Rajaratha features Nirup Bhandari, Avantika Shetty, P. Ravishankar, Arya, Sruthi Hariharan, Puneeth Rajkumar and others. This is the second collaboration with the director and lead roles after a grand success of Rangi Taranga. Divo is the music label of this movie.
This song was composed and written by Anup Bhandari. Hele Meghave was rendered by Abhay Jodhpurkar with additional vocals by Vasuki Vaibhav, Chinmayee Chandrashekar.
Hele Meghave feel good peepy number with some good lyrics and music supported by musicians like Bruce on acoustic guitar, Seenu who handled Banjo/Mandolin and flute of Sandeep Vasishta while Strings and Brass was conducted by MSV Raja.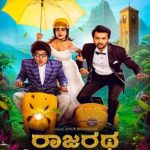 Hele Meghave Lyrics
Movie: Rajaratha [2018]
Music Label: Divo
Music: Anup Bhandari
Lyrics: Anup Bhandari
Singer: Abhay Jodhpurkar
Check out the lyrics here..
Hele Meghave
Oduveeyyeee.. Hey Hey Hey
Heege Ethake
Nanna Nodade
Hoguveeyyeee. Hey Hey Hey
Heege Ethake
Heegeke Kaade
Nee Mungaarinaage
Naa Ninna Hinde Saago
Alamaariyanthadaru
Nanna Neeneke Heege
Marichike Haage
Kannallidaru Sigadeye Kaaduve
Kaamana.. Billinallu..
Kaanadantha Banna Neene
Matte Serade
Kaaduveeyyeee.. Hey Hey Hey
Heege Ethake
Hele Meghave
Hatthira Nanna Jotheyale
Irabeku Neenu Endu Naanu Kelikonde
Sooryana Sooryana
Kirana Thaakini Sooryana
Berello Baaninalli Serikonde
Nee Dhoorave Iddaru Ninnanu
Naa Noduve Mucchade Kannanu
Neenenendaru..
Naa Ninna Bittu Innu Elli Hoguve
Idi Varushavu..
Naanille Ninthu Ninna Daari Kaayuve
Naa Baa Hatthira Endaaga Dhooduve
Naanondu Kshanku Ninna Bittu Dhoora Hodare
Noduveeyyeee.. Hey Hey Hey
Heege Ethake
Hele Meghave
Lalala Lalala..
Hagalinalli Bagalinalli Idda Ninna Nesara
Irukinalli Dooravaaadaga Moodi Besara
Ninna Kaannininda Harida Kambani
Nanna Bandu Seridaaga Saviya Ibbani
Nee Nanna Kaige Etukadiruva Maayagaathi Gagana Kusuma
Kanna Haniyu Onde Saaku Dinava Kaleyalu
Ibbani Thabbidaaga..
Suridhu Banthu..
Preethi Sone
Kele Meghave
Comments
comments