November 11, 2018
Hrudaya Jhenkara Lyrics
Hrudaya Jhenkara Lyrics: Hrudaya Jhenkara is a Kannada song from the 1981 Kannada movie Ranganayaki, directed by Puttanna Kanagal and produced by B. Thimmanna under the banner Sri Ashok Arts.
Ranganayaki features Aarathi, Ashok, Ambarish, Ramakrishna, Rajanand, Chayapathi, Anand Darwad, Shrungar Nagaraj, Deshmuk Manohar, Sadashiva Brahmavar, Rudresh, B. K. Shankar, Chandrahasa, Kunigal Ramanath, Sampangi, Boregowda, Pranavamurthy, Vishnu Pai, Inamdar, Rudrappa, Shivakumar, Jayashree, Lalithamma, Lavanya, Archana, Vanichandra, Srirekha, Shanthala, Sripramila, Vijaya, Prathibha, Shubha, Indu, Gangadhar, Dinesh, Musuri Krishnamurthy, A. S. Murthy , Vamana Rao, Baby Lalitha, Baby Banti, Baby Mallika, Master Jayesh, Master Anil and others.
The film is based on the novel Ranganayaki by Ashwattha. Famous actress Sudharani acted in this movie in the role of younger Ranganayaki. Sangeetha is the music label of this movie.
Hrudaya Jhenkara song lyrics were written by K. Prabhakar Shasthry and the song was composed by M. Ranga Rao. This song was sung by playback singers S. P. Balasubrahmanyam and  S. Janaki.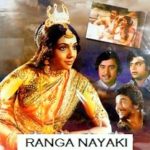 Hrudaya Jhenkara Lyrics
Movie: Ranganayaki [1981]
Music by: M. Ranga Rao
Singers: S. P. Balasubrahmanyam, S. Janaki
Lyrics: K. Prabhakar Shasthry
Music Label: Sangeetha
Check out 'Hrudaya Jhenkara Lyrics' here..
Hoi Hoi Hoi Hoi
Jai Jai Hrudaya Jhenkara
Aa.. Hey Hey Pranaya Jhenkara
Ho Ho Sukhada Jenkara
Jai Jai Hrudaya Jhenkara
Aa.. Hey Hey Pranaya Jhenkara
O O Sukhada Jenkara
Ee Thaarunya Bhorgareya Sharavathi
Ee Lavanya Haalelaya Hemavathi
Ee Baduke Bayakegala Bannada Chittaara
Ee Baduke Bayakegala Bannada Chittaara
Thara Thara Chitthara
Jai Jai Hrudaya Jhenkara
Hombannada Hoo Bisilali
Olidaaduva Olidaaduva
Hombannada Hoo Bisilali
Nenedaaduva Nenedaaduva Nenedaaduva
Ee Baduke Bayakegala Bannada Chittara
Thara Thara Chitthara
Jai Jai Hrudaya Jhenkara
Ee Olume Anandada Alakavathi
Ee Bhoomiye Lalala Amaravthi
Ee Baduke Bayakegala Bannada Chittaara
Thara Thara Chitthara
---
Ranganayaki [1981] Kannada Movie Songs List
1. Mandhara Pushpavu Neene
Singers: P. Jayachandran, S. P. Sailaja
Lyrics: Vijaya Narasimha
2. Jai Jagadambe
Singer: S. Janaki
Lyrics: Vijaya Narasimha
3. Kannada Naadina Rasikara
Singers: S. P. Balasubrahmanyam, S. P. Sailaja
Lyrics: K. Prabhakar Shasthry
4. Premadalli Snehadalli
Singer: S. P. Balasubrahmanyam
Lyrics: M. N. Vyasa Rao
5. Hrudaya Jhenkara
Singers: S. P. Balasubrahmanyam, S. Janaki
Lyrics: K. Prabhakar Shasthry
6. Hannu Thindare Baayi Sakkare
Singers: S. P. Balasubrahmanyam, Lalitha, Ramola
Lyrics: Doddarange Gowda
Comments
comments