November 3, 2017
Janakana Maatha Lyrics
Janakana Maatha Lyrics: Janakana Maatha is a song from the 1994 Kannada movie Odahuttidavaru, directed by Dorai – Bhagawan. Odahuttidavaru features Rajkumar, Ambareesh, Madhavi, Srishanti, Vajramuni, K. S. Ashwath, Balakrishna, Umashree and others. The film was the last work of the acclaimed lyricist Vijaya Narasimha. Sangeetha is the music label of this movie. This song was composed by Upendra Kumar with lyrics penned by Vijaya Narasimha. Janakana Maatha was rendered by S. P. Balasubrahmanyam.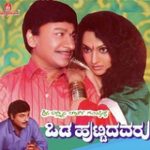 Janakana Maatha Lyrics
Movie: Odahuttidavaru [1994]
Music Label: Sangeetha
Music: Upendra Kumar
Lyrics: Vijaya Narasimha
Singer: S. P. Balasubrahmanyam
Check out the lyrics here..
Janakana Maatha Shiradali Dharisida
Janakana Maatha Shiradali Dharisida
Anupama Raghurama Oo Thyagave Nija Dharma
Maneyali Biruku Badukige Kedaku
Ennuva Ee Neethi Thilidare Sukha Shanthi
Janakana Maatha Shiradali Dharisida
Anupama Raghurama Oo Thyagave Nija Dharma
Siri Sukha Dhoolu Enisi Dorethana Doora Irisi
Chapalathe Ella Thyajisi Arivina Deepa Urisi
Nadedanu Raama Viraagi Thandeya Aanathigaagi
Raamanu Premada Moorthi Sathi Seetheyu Ramana Spoorthi
Bhoomiya Geddare Raajya Manadaaseya Geddava Poojya
Baduke Vidhi Soothravu Maanava Nepa Mathravu
Janakana Maatha Shiradali Dharisida
Anupama Raghurama Oo Thyagave Nija Dharma
Thanu Sukha Onde Kori Ithi Mithi Mannige Thori
Mathi Bhrame Hondutha Jaari Pathanada Anchanu Seri
Lakshmana Rekheya Meeri Neethiyu Neegithu Daari
Yogayu Punyada Roopa Anuraagavu Baalina Deepa
Bayasutha Annana Prema Bali Bandanu Preethia Thamma
Baduke Vidhi Soothravu Oo Maanava Nepa Mathravu
Janakana Maatha Shiradali Dharisida
Anupama Raghurama Oo Thyagave Nija Dharma
Thyagave Nija Dharma Thyagave Nija Dharma
Comments
comments