June 9, 2018
Jeevakke Jeeva Songs Lyrics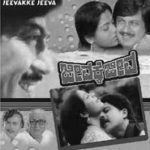 Jeevakke Jeeva Songs Lyrics: Jeevakke Jeeva is a 1981 Kannada film, directed by K. S. R. Das. The film was produced by S. V. Srikanth under the banner Devi Gayathri Rupalaya. Jeevakke Jeeva features Anant Nag, Shankar Nag, Saritha, Dwarakish, Kanchana, Vajaramuni, Balakrishna, Sampath, Shivaprakash, Kanchana, Raja Sulochana, Jyothilakshmi, Thoogudeepa Srinivas, Gangadhar, Pandari Bai, Smt Jayagopal, Baby Anjuman and others.
Sangeetha music is the audio label of this movie. All songs of this movie were composed by Rajan-Nagendra with lyrics written by Chi. Udaya Shankar. Songs of this movie were rendered by singers S. P. Balasubrahmanyam, S. Janaki and S. P. Sailaja.
Check out the lyrics here..
Elle Haadali Elle Hogali Lyrics
Movie: Jeevakke Jeeva [1981]
Music Label: Sangeetha
Music: Rajan-Nagendra
Lyrics: Chi. Udaya Shankar
Singers: S. P. Balasubrahmanyam
Thani Thandana Jodiyaade Naa Lyrics
Movie: Jeevakke Jeeva [1981]
Music Label: Sangeetha
Music: Rajan-Nagendra
Lyrics: Chi. Udaya Shankar
Singers: S. P. Balasubrahmanyam, S. P. Sailaja
Madhura Ee Baala Geetheyu Lyrics
Movie: Jeevakke Jeeva [1981]
Music Label: Sangeetha
Music: Rajan-Nagendra
Lyrics: Chi. Udaya Shankar
Singers: S. Janaki
Thangaali Beeside Lyrics
Movie: Jeevakke Jeeva [1981]
Music Label: Sangeetha
Music: Rajan-Nagendra
Lyrics: Chi. Udaya Shankar
Singers: S. P. Balasubrahmanyam, S. Janaki
Preethi Maadabeku Lyrics
Movie: Jeevakke Jeeva [1981]
Music Label: Sangeetha
Music: Rajan-Nagendra
Lyrics: Chi. Udaya Shankar
Singers: S. P. Balasubrahmanyam
Comments
comments