June 9, 2018
Preethi Maadabeku Naanu Neenu Lyrics
Preethi Maadabeku Naanu Neenu Lyrics: Preethi Maadabeku Naanu Neenu is a song from the 1981 Kannada film Jeevakke Jeeva, directed by K. S. R. Das. The film was produced by S. V. Srikanth under the banner Devi Gayathri Rupalaya. Jeevakke Jeeva features Anant Nag, Shankar Nag, Saritha, Dwarakish, Kanchana, Vajaramuni, Balakrishna, Sampath, Shivaprakash, Kanchana, Raja Sulochana, Jyothilakshmi, Thoogudeepa Srinivas, Gangadhar, Pandari Bai, Smt Jayagopal, Baby Anjuman and others.
Sangeetha music is the audio label of this movie. This song was composed by Rajan-Nagendra with lyrics written by Chi. Udaya Shankar. Preethi Maadabeku Naanu Neenu song was rendered by singers S. P. Balasubrahmanyam.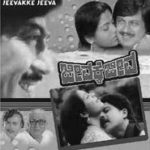 Preethi Maadabeku Lyrics
Movie: Jeevakke Jeeva [1981]
Music Label: Sangeetha
Music: Rajan-Nagendra
Lyrics: Chi. Udaya Shankar
Singers: S. P. Balasubrahmanyam
Check out the lyrics here..
Preethi Maadabeku Naanu Neenu Neenu Naanu
Naanu Neenu Neenu Naanu
Seri Haadabeku Naanu Neenu Neenu Naanu
Naanu Neenu Neenu Naanu
Maththero Veleyalli Jodi Hoovaagi
Thampaada Gaaliyalli Haadi Ondaagi
Snehadalli Santhoshavenu
Premadalli Anandavenu
Maathinalli Helalaare
Nodidaaga Sambhramavenu
Koodidaaga Ullasavenu
Aaseyannu Thalalaare
Kannalle Kaathara Manadalle Aathura
Kannalle Kaathara Manadalle Aathura
Sukhavannu Kaanoke Aadhara
Sukhavannu Kaanoke Aadhara
Preethi Maadabeku Naanu Neenu Neenu Naanu
Naanu Neenu Neenu Naanu
Seri Haadabeku Naanu Neenu Neenu Naanu
Naanu Neenu Neenu Naanu
Maththero Veleyalli Jodi Hoovaagi
Thampaada Gaaliyalli Haadi Ondaagi
Andavello Chandavello
Chandavello Soundaryavello
Alle Maayeyu Untu
Thaale Hoova Kampanu Kandu
Aase Yeke Ninageega Banthu
Haavu Kooda Alli Untu
Soundarya Nodade Baleyalli Beelade
Soundarya Nodade Baleyalli Beelade
Avalaata Saagadanthe Maadona
Avalaata Saagadanthe Maadona Baa
Preethi Maadabeku Naanu Neenu Neenu Naanu
Naanu Neenu Neenu Naanu
Seri Haadabeku Naanu Neenu Neenu Naanu
Naanu Neenu Neenu Naanu
Maththero Veleyalli Jodi Hoovaagi
Thampaada Gaaliyalli Haadi Ondaagi
Jeevakke Jeeva Songs Lyrics
Elle Haadali Elle Hogali
Thani Thandana Jodiyaade Naa
Madhura Ee Baala Geetheyu
Thangaali Beeside
Preethi Maadabeku
Comments
comments