November 9, 2023
Kudurena Thandivni Lyrics
Kudurena Thandivni Lyrics: Kudurena Thandivni is a popular Kannada Folk song known as 'Janapda Haadugalu' in Karnataka. These songs were passed on from generation to generation, whose writers remain anonymous.
These are the songs created by ordinary people but they have extraordinary emotion, feeling and devotion in them. They have created songs for all kind of emotions, situations and celebrations.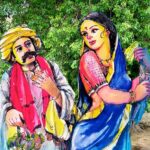 Kudurena Thandivni Lyrics
Genre: Folk / Janapada
Language: Kannada
Music: Janapada
Lyrics: Janapada
Singer: Various
Check 'Kudurena Thandivni Lyrics' Here..
Kudurena Tandeevni
Jeenava Bigisivni
Barabeku Thangi Maduvege
Barabeku Thangi Maduvege
Kudurena Tandeevni
Jeenava Bigisivni
Barabeku Thangi Maduvege
Barabeku Thangi Maduvege
Angla Gudisorillla
Gangla Tholeyorilla
Henge Baralanna Maduvege
Anglakke Aaliduve
Ganglakke Thottiduve
Barabeku Thangi Maduvege
Barabeku Thangi Maduvege
Maleyaara Bandidittu
Holeyaara Tumbittu
Henge Baralanna Maduvege
Cinnada Harigolg̱e
Rannada Huttuhaaki
Jopaanavagi Karedoyyuve
Jopaanavagi Karedoyyuve
Rannada Maguvannaa
Ragaleya Madittu
Henge Baralanna Maduvege
Rannada Maguvinge
Chinnada Bale Iduve
Barabeku Thangi Maduvege
Barabeku Thangi Maduvege
Ammanillada Manege
Naa Hyaanga Baralanna
Ammanillada Tavarige
Ammana Sthaanadalli
Naanilllavenu
Barabeku Thangi Maduvege
Barabeku Thangi Maduvege
Comments
comments