August 18, 2020
Jai Ganesha Ninage Vandane Song Lyrics | Ganapathi Dhyana Hamsalekha
Jai Ganesha Ninage Vandane Song Lyrics | Ganapathi Dhyana Hamsalekha: Jai Ganesha Ninage Vandane is popular Kannada devotional song about Lord Ganesha. This song is also known as Ganapathi Dhyana and Ganapathi Sankashta Stuthi.
Lord Ganesha also known as Ganapati, Vinayaka, and other names is one of the most worshiped deities in the Hindu religion. He is the song of Lord Shiva and Goddess Parvati. He is the elder brother of Lord Subramanya.
Lord Ganapathi is widely revered as the remover of obstacles, the patron of arts and sciences and the deva of intellect and wisdom. Before beginning any auspicious work, Lord Vinayaka is worshiped as He is the God who removes any obstacles in the path.
Ganesha Chaturthi is the festival celebrated to honour Lord Vinayaka. This festival will be celebrated every year in the month of late August or early September. Ganesha festival begins with people bringing in idols of Ganesha, symbolising the god's visit. The festival culminates on the day of Ananta Chaturdashi, when the idols are immersed in the most convenient body of water.
Jai Ganesha Ninage Vandane Song Lyrics were penned by famous Kannada music director Hamsalekha. This song composed by Hamsalekha was soulfully rendered by famous Kannada singer Rajesh Krishnan.
Listen to soothing devotional Ganesha song to get the blessings of Lord Ganesha. We wish you all a Happy Ganesha Chaturthi 2020.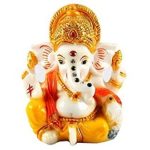 Song: Jai Ganesha Ninage Vandane | Ganapathi Dhyana
Album: Ganapathi Sankashta Stuthi
Music: Hamsalekha
Lyrics: Hamsalekha
Singer: Rajesh Krishnan
Music Label: Aananda Audio Video
Check out the lyrics here..
Jai Ganesha Ninage Vandane
Suprabhata Ninage Hrudayadarchane
Divya Divya Mooruthi
Namma Bhavya Baala Sarathi
Agra Poojegadhipati
Sankashtahara Ganapathi
Gowri Puthra Ninage Vandane
Varada Hastha Ninage Hrudayadarpane
Siddhi Buddhi Shripathi
Sakala Shasthra Vidya Kulapathi
Aadi Poojegadipathi
Sankashtahara Ganapathi
Eesha Puthra Ninage Vandane
Sathya Nishta Ninage Supradakshine
Jaya Jaya Jagajjyothi
Saptha Loka Keeruthi
Prathama Poojegadhipathi
Sankashta Hara Ganapathi
Gajanana Ninage Vandane
Sarva Shaktha Ninage Modakaarpane
Mangalaanga Mooruthi
Praana Vaayu Ninna Keeruthi
Maha Kaaya Bhoopathi
Sankashta Hara Ganapathi
Ekadanta Ninage Vandane
Vakrathunda Ninage Pushpadarpane
Vyasaraaya Vanditha
Veda Veda Vaagpathi
Mahaa Kavya Virachita
Sankashta Hara Ganapathi
Vighnaraaja Ninage Vandane
Nithya Vijayi Ninage Gandhadarpane
Mahakarna Ninage Vandane
Kaala Gnani Ninage Manthradarpane
Ramachandra Poojitha
Saamagaana Sushruti
Suraganaadhi Vanditha
Sankashta Hara Ganapathi
Lambodara Ninange Vandane
Thengu Baale Bella Ninage Arpane
Thande Thaayi Ibbare
Mooru Lokavenda Druthpathi
Subramanyan Agraja
Sankashta Hara Ganapathi
Bhaktha Kavacha Ninage Vandane
Ninna Kiviyalirali Namma Prarthane
Raghavendra Archita
Suprasanna Sathpathi
Aartha Raathma Kaashrita
Sankashta Hara Ganapathi
Jnanavantha Ninage Vandane
Madhura Madhuparka Ninage Arpane
Paasha Ankushaadhara
Vishwa Roopa Sundarakruti
Shubhra Peethambara
Sankashtahara Ganapathi
Brahma Teja Ninage Vandane
Agni Garbha Putra Swayam Poornane
Paahi Thraiguneshvara
Aananda Prema Prakruthi
Paahi Santha Kinkara
Sankashta Hara Ganapathi
Sachchidananda Vigraha
Maado Ka__ma Krodha Lobha Nigraha
Gaana Padya Guruve Paahima
Nithya Parama Sathya Stothra Paahima
Daya Dharma Preraka
Bharathashta Diggpathi
Jnana Buddhi Kaaraka
Sankashta Hara Ganapathi
Mooshikeshwaraya Paahima
Thraahi Modaka Priyaaya Paahima
Baala Vruddha Sevitha
Hey Sajeeva Samskruthi
Vishwa Vandya Poojitha
Sankashta Hara Ganapathi
Soma Soorya Agni Lochana
Paahi Paahi Paahi Shree Gajaanana
Punya Paarayana
Tarali Namage Sadgathi
Manada Maneya Thorana
Sankashta Hara Ganapathi
Vaathapi Ganapathim Bhaje
Bhootha Bhouthika Prakashitam Bhaje
Dhaksha Adhakshyayane
Hey Sarva Dharma Sanmathi
Vinaya Vidya Veeryane
Sankashta Hara Ganapathi
Shiva Ganesha Paahi Paahi Paahima
Aathma Shiva Prakasha Paahi Paahi Paahima
Shashwathaya Paahima
Koti Soorya Prajwalaarathi
Akalmashaaya Paahima
Sankashta Hara Ganapathi
Om Swaram Sureshwaram Bhaje
Kaladhara vatamsakam Bhaje
Chowthi Shukla Chandra Darshana
Loka Ninde Maththu Maana Mardhana
Chandra Nakka Kaarana Shapaviththa Gajapathi
Maththe Thaane Mukthi Needida
Sankashta Hara Ganapathi
Yaarigilla Loka Nindane
Nondu Nudida Antha Shri Krishnane
Shamantaka Maniyanu
Kaddananthe Yadhupathi
Nakka Loka Nindege
Sankashta Hara Ganapathi
Vaasudeva Neneda Vighnana
Vighna Raaja Nadesi Thanda Krishnana
Kaadu Medu Aledanu
Choratva Kaleye Yadhupathi
Koti Baari Japisida
Sankashta Hara Ganapathi
Simha Konda Raajananujana
Jamabavantha Konda Simha Raajana
Nindisida Janarige Thorida Gokulapathi
Munde Daari Thorida
Sankashta Hara Ganapathi
Krishna Horatu Nintha Chaladali
Satya Shodhakaagi Sulida Guheyali
Janaru Kaadu Hodaru
Bahukaala Barade Yadhupathi
Kaadu Nintha Naayaka
Sankashta Hara Ganapathi
Rama Bhaktha Jambavanthanu
Krishna Shakthi Thiliyade Danidanu
Vighna Kartha Nodi Nalidanu
Bhaktha Devarolaagina Kadanavanu
Krishnanalli Raama Pradarshisida Yadhupathi
Kunida Katha Kaaraka
Sankashta Hara Ganapathi
Sothu Dhanyanaada Bhakthanu
Kotta Maniya Jothege Kanya Maniyanu
Devaranne Padedalu Roopavathi Jambavathi
Kanya Laabha Needida
Sankashta Hara Ganapathi
Maniya Thanda Manege Madhava
Nindeyinda Mukthanaada Yaadava
Harsha Stothra Varshadi
Mindu Nalida Yadhupathi
Keerthi Laabha Needida
Sankashta Hara Ganapati
Satrarjithana Shanke Hariyithu
Kshamege Loka Kalyanavaayithu
Sathyabhama Deviya
Maduveyada Shripathi
Vaikunta Bhoomi Beresida
Sankashta Hara Ganapathi
Ghatanegalige Vighna Kaarana
Vighna Raajaninda Avu Nivarana
Krishna Katheya Aalise
Nindeyinda Vimukthi
Poreva Vruthava Paalise
Sankashta Hara Ganapathi
Deva Deva Deva Ganapathi
Ninna Naama Smaraneyinda Sanmathi
Paahi Paahi Paahi Ganapathi
Ninna Paada Sparshadinda Sadgathi
Veda Veda Sagara
Veda Vyasa Sahamathi
Shuklaambharada
Sankashta Hara Ganapathi
Naada Natya Brahma Ganapathi
Ninna Leeleyolage Namage Sanmathi
Prathama Poojegoppida
Pralaya Rudra Pashupathi
Baala Daiva Lokake
Sankashta Hara Ganapathi
Namo Namo Baala Ganapathi
Neenu Gagana Thumbo Vishaalakruthi
Nithya Dhanyaladalu
Ninna Heththa Parvathi
Aadi Srushti Yeniside
Sankashta Hara Ganapathi
Bela Bella Ninage Gajapathi
Kadubu Kabbu Kobari Ninage Ganapathi
Balada Hasthavadalu
Ninage Thaayi Saraswathi
Aathma Balavu Lokake
Sankashta Hara Ganapathi
Jaya Ho Jaya Ho Jaya Ho Ganapathi
Dharege Shanthi Sukhava Tarali Gana Stuthi
Soorya Chandrarindale
Ninage Mangalaarathi
Oppisiko Bhakthara
Sankashta Hara Ganapathi
Om Shanthi Om Ganapathi
Shanthi Om Shanthi Om Ganapathi
Ganesha Devotional Songs
1. Ekadantaya Vakratundaya
2. Sharanu Sharanayya Sharanu Benaka
3. Gajamukhane Ganapathiye Ninage Vandane
4. Jai Ganesha Ninage Vandane
5. Kadubige Thuppa Haakidenappa
6. Ganapathi Ganapathi
7. Heluve Kathe Heluve
8. Belagaithu Yelu Hey Muddu Benaka
9. Hejje Mele Hejje Ittu Ganapa Bandane
10. Ganesha Astottara Shatanamavali
Comments
comments