August 22, 2020
Heluve Kathe Heluve Song Lyrics | SPB Ganesha Devotional Songs
Heluve Kathe Heluve Song Lyrics | SPB Ganesha Devotional Songs: Heluve Kathe Heluve is a Kannada devotional song about Lord Ganesha from the album Sri Ganesha Bhakthi Pushpanjali. Aananda Audio Video is the record label of this album.
Lord Ganesha also known as Ganapati, Lambhodhara, Vinayaka, and other names is one of the most worshiped deities in the Hindu  religion. He is the song of Lord Shiva and Goddess Parvathi. He is the elder brother of Lord Subramanya.
Heluve Kathe Heluve Song Lyrics were penned by lyricist Vijayanarasimha and the song was composed by Manoranjan Prabhakar. This song was rendered by famous playback singer S. P. Balasubramanyam.
This song tells a story of Gowri and Ganesha. It explains how lord Ganesha acquired the elephant face. Song has got very interesting lyrics. listen to this devotional song of Lord Ganesha on this occasion of Ganesha Chaturthi and get the blessing of Vinayaka. Wish you all a very happy Ganesha Chaturthi Festival.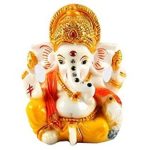 Song: Heluve Kathe Heluve
Album: Sri Ganesha Bhakthi Pushpanjali
Music: Manoranjan Prabhakar
Lyrics: Vijayanarasimha
Singer: S. P. Balasubramanyam
Music Label: Aananda Audio Video
Check out the lyrics here..
Heluve Kathe Heluve
Keliri Kathe Heluve
Heluve Kathe Heluve
Keliri Kathe Heluve
Gowri Puthra Vinayakanige
Aane Mukhavu Banda Katheya
Heluve Kathe Heluve
Keliri Kathe Heluve
Gowri Puthra Vinayakanige
Aane Mukhavu Banda Katheya
Heluve Kathe Heluve
Keliri Kathe Heluve
Ondu Dina Parvathiyu
Snana Gruhake Horatalu
Mannininda Murthiya Maadi
Jeeva Adake Iththalu
Ondu Dina Parvathiyu
Snana Gruhake Horatalu
Mannininda Murthiya Maadi
Jeeva Adake Iththalu
Amma Ninna Aajne Yenu
Yendu Keli Kandanu
Amma Ninna Aajne Yenu
Yendu Keli Kandanu
Kaavaliru Endalu Gowri Olavinda
Kaavaliru Endalu Gowri Olavinda
Heluve Kathe Heluve
Keliri Kathe Heluve
Gowri Puthra Vinayakanige
Aane Mukhavu Banda Katheya
Heluve Kathe Heluve
Keliri Kathe Heluve
Kanda Kaavaliruva Vele
Shivanu Allige Banda
Shivanu Yarendariyade
Nillisidanu Kanda
Olagade Bidenu
Ille Nilli Yendu Kanda Yenalu
Harage Ukki Banthu
Aaga Kopada Honalu
Kopadaaaaa Honalu
Kopadinda Shooola Thegedu Ninthanu Thripuraari
Kandana Thale Kaththrarisida Kaama Samhaari
Shabdha Keli Olagininda Odi Bandalu Gowri
Saththa Magana Kandu Aththu Golaadidalu Naari
Saththa Magana Kandu Aththu Golaadidalu Naari
Saththa Huduga Thanna Maganu
Yendu Aritha Nonda Shivanu
Ondu Thaleya Arasi Thanni
Yendu Aajne Thandanu
Saththa Huduga Thanna Maganu
Yendu Aritha Nonda Shivanu
Ondu Thaleya Arasi Thanni
Yendu Aajne Thandanu
Arasi Horataru Ganagalu Dikku Dikkige
Aaneyondu Malagiththu Uththra Dikkige
Aane Thaleya Kaththarisi
Shivana Balige Thandaru
Adanu Magana Dehakittu
Jeeva Thandanu Devanu
Jeeva Thumbida Kanda
Thandege Vandanegaidanu
Santhasadi Magana Thabbi
Avage Varava Iththanu
Santhasadi Magana Thabbi
Avage Varava Iththanu
Indininda Modala Pooje
Endu Ninage Endanu
Ganagalige Nayaka Nee
Endu Shivanu Nudidanu
Andininda Kandanaada
Daiva Gana Naayaka
Bhakthara Vighnagalanu Arisuva Vinayaka |3|
Ganesha Devotional Songs
1. Ekadantaya Vakratundaya
2. Sharanu Sharanayya Sharanu Benaka
3. Gajamukhane Ganapathiye Ninage Vandane
4. Jai Ganesha Ninage Vandane
5. Kadubige Thuppa Haakidenappa
6. Ganapathi Ganapathi
7. Heluve Kathe Heluve
8. Belagaithu Yelu Hey Muddu Benaka
9. Hejje Mele Hejje Ittu Ganapa Bandane
10. Ganesha Astottara Shatanamavali
Comments
comments