August 20, 2020
Ganapathi Ganapathi Song Lyrics | Ganesha Chaturthi Kannada Songs
Ganapathi Ganapathi Song Lyrics | Ganesha Chaturthi Kannada Songs: Ganapathi Ganapathi is a Kannada devotional song about Lord Ganesha / Vinayaka sung by playback singer Rathnamala Parakash.
Lord Ganesha also known as Ganapati, Vinayaka, and other names is one of the most worshiped deities in the Hindu religion. He is the song of Lord Shiva and Goddess Parvati. He is the elder brother of Lord Subramanya.
Ganesha Chaturthi is the festival celebrated to honour Lord Vinayaka. This festival will be celebrated every year in the month of late August or early September. Ganesha festival begins with people bringing in idols of Ganesha, symbolising the god's visit. The festival culminates on the day of Ananta Chaturdashi, when the idols are immersed in the most convenient body of water.
Ganapathi Ganapathi Song Lyrics were written by famous Kannada music director Hamsalekha. This song composed by Hamsalekha was rendered by singer Rathnamala Parakash.
Listen to this Ganapathi devotional song to get the blessings of Lord Vinayaka. We wish you all a Happy Ganesha Chaturthi 2020.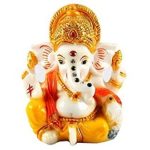 Song: Ganapathi Ganapathi
Album: Ganapathi Sankashta Stuthi
Music: Hamsalekha
Lyrics: Hamsalekha
Singer: Rathnamala Prakash
Music Label: Aananda Audio Video
Check out the lyrics here..
Om Ganapathi Ganapathi Om
Sankashta Hara Sthuthi Om
Ganapathi Ganapathi
Ganapathi Ganapathi
Ganapathi Gunapathi
Jagake Neene Gathi
Naanu Moodhamathi
Aalisu Sankashta Sthuthi
Irisu Sankashta Sthithi
Ganapathi Ganapathi
Ganapathi Ganapathi
Om Ganapathi Ganapathi Om|3|
Sankashta Hara
Athi Sheeghra Phala Shruthi
Koduva Gajapathi
Endu Saaride Tantrasaara
Athi Gopyavendaru
Madhva Mahimaru
Sheegra Kaarya Mantrasaara
Chitta Loka Sanchaara
Chiththvitta Shreekaara
Chittapathi Aa Aa Aa
Chittapathi Ninagido Chittha Sthuti
Ganapathi Ganapathi
Ganapathi Ganapathi
Jagake Neene Gathi
Naanu Moodhamathi
Aalisu Sankashta Sthuthi
Irisu Sankashta Sthithi
Aalisu Sankashta Sthuthi
Irisu Sankashta Sthithi
Ganapathi Ganapathi
Ganapathi Ganapathi
Om Ganapathi Ganapathi Om|3|
Sankashta Hara
Mahabeejaakshara Mantra Roopa
Ninna Marevude Shantham Paapam
Gaana Lola Gambheera
Deena Dalitha Mandaara
Mahamathi Aa Aa Aa
Mahamathi Ninagido Jaga Sthuthi
Ganapathi Ganapathi
Ganapathi Ganapathi
Ganapathi Gunapathi
Jagake Neene Gathi
Naanu Moodhamathi
Aalisu Sankashta Sthuthi
Irisu Sankashta Sthithi
Aalisu Sankashta Sthuthi
Irisu Sankashta Sthithi
Ganapathi Ganapathi
Ganapathi Ganapathi
Ganesha Devotional Songs
1. Ekadantaya Vakratundaya
2. Sharanu Sharanayya Sharanu Benaka
3. Gajamukhane Ganapathiye Ninage Vandane
4. Jai Ganesha Ninage Vandane
5. Kadubige Thuppa Haakidenappa
6. Ganapathi Ganapathi
7. Heluve Kathe Heluve
8. Belagaithu Yelu Hey Muddu Benaka
9. Hejje Mele Hejje Ittu Ganapa Bandane
10. Ganesha Astottara Shatanamavali
Comments
comments