August 20, 2018
The Villain [2018] Kannada Song Lyrics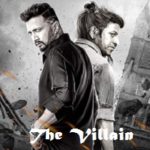 The Villain [2018] Kannada Song Lyrics: The Villain is one of the most anticipated Kannada movie of 2018 Kannada. The film was written and directed by Prem. The film was produced by C. R. Manohar under the banner Tanvi – Shanvi Films. The Villain features ensemble cast of Karunaada Chakravarthy Dr.Shivarajkumar and Abhinaya Chakravarthy Kichcha Sudeepa, Amy Jackson, Hindi superstar Mithun Chakraborty, Mukul Dev, Srikanth, Sruthi Hariharan, Radhika Chetan and others.
Aananda Audio Video is the music label of this movie. All songs were composed by one of the most happening music director in Kannada Movie industry Arjun Janya with lyrics penned by director Prem himself. Songs were rendered by playback singers Shankar Mahadevan, Shreya Ghoshal, Vijay Prakash, Kailash Kher, Kushala, Arman Malik, Siddarth Basrur and director Prem.
The Villain is one of the most expected album of Kannada movie this year. The combination of superstars Shivarajkumar and Sudeepa with director Prem who has directed some memorable films like Kariya, Excuse Me, Jogi, Jogayya added more expectations. The album contains very entertaining numbers by Arjun Janya. few songs are already chart busters among the music lovers.
Check out the lyrics here..
I Am Villain Lyrics
Moive: The Villain [2018]
Record Label: Aananda Audio Video
Music: Arjun Janya
Singers: Shankar Mahadevan
Lyrics: Prem
Tick Tick Tick Lyrics
Moive: The Villain [2018]
Record Label: Aananda Audio Video
Music: Arjun Janya
Singers: Kailash Kher, Vijay Prakash, Siddarth Basrur, Prem
Lyrics: Prem
Love Aagoythe Lyrics
Moive: The Villain [2018]
Record Label: Aananda Audio Video
Music: Arjun Janya
Singers: Prem
Lyrics: Prem
Nodivalandava Lyrics
Moive: The Villain [2018]
Record Label: Aananda Audio Video
Music: Arjun Janya
Singers: Arman Malik, Shreya Ghoshal
Lyrics: Prem
Bolo Bolo Raamappa Lyrics
Moive: The Villain [2018]
Record Label: Aananda Audio Video
Music: Arjun Janya
Singers: Vijay Prakash, Kushala
Lyrics: Prem
Rana Rana Raavana Lyrics
Moive: The Villain [2018]
Record Label: Aananda Audio Video
Music: Arjun Janya
Singers: Shreya Ghoshal, Prem Jogi
Lyrics: Prem
Comments
comments