August 20, 2018
Rana Rana Raavana Song Lyrics | The Villain
Rana Rana Raavana Song Lyrics | The Villain: Rana Rana Raavana is a song from the upcoming 2018 Kannada movie The Villain, written and directed by Prem. The film was produced by C. R. Manohar under the banner Tanvi – Shanvi Films. The Villain features ensemble cast of Karunaada Chakravarthy Dr.Shivarajkumar and Abhinaya Chakravarthy Kichcha Sudeepa, Amy Jackson, Hindi superstar Mithun Chakraborty, Mukul Dev, Srikanth, Sruthi Hariharan, Radhika Chetan and others.
Aananda Audio Video is the music label of this movie. This song was composed by one of the most happening music director in Kannada Movie industry Arjun Janya with lyrics penned by director Prem. Rana Rana Raavana song was rendered by playback singer Shreya Ghoshal and director Prem.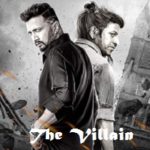 Rana Rana Raavana Lyrics
Movie: The Villain [2018]
Record Label: Aananda Audio Video
Music: Arjun Janya
Singers: Shreya Ghoshal, Prem Jogi
Lyrics: Prem
Check out the lyrics here..
Rana Rana Raakshasar Raja
Asurakula Chakraadipathi
Veera Shoora Dheera
Rana Rana Lankaadhipathi
Ravan.. Ravana.. Ravana
Aaa.. Aa… Aaa..
Kaiyalli Billina Kolu
Maiyella Dharmada Shaalu
Dharmaane Devaru Andanu
Nanna Aa Sri Ramachandranu
Yarannu Noyisadavnu
Sathyakke Tale Baaguvanu
Maathige Thappada Maganu..
Nanna Aa Sri Ramachandranu
Ashta Dikkugalu Kaala Kelege
Ella Devar Ee Mushti Olgae
Solilla Nanage Saavilla Konege
Naa Yaaru Gottha Ninga Ravana..
Aaa.. Aa.. Aaa..
Thandege Maathu Kotta
Raajyava Thyajisi Bitta
Aa Thaayi Kousaleya Maganu..
Nanna Aa Sri Ramachandranu
Vanara Sene Katti
Lankege Benki Itta
Seetheya Marali Thandanu..
Nanna Aa Sri Ramachandranu
Dhaga Dhaga Dhaga Dhaga Dhaga Dhaga
Uriyuthide Ede Uriyuthide
Rana Rana Rana Rana Rana Rana
Rakthavu Kudiyuthide Kudiyuthide
Ramana Edeyanu Bageyuva Aase Inde
Rakthava Thegedu Paadava Tholeyuve Inde
Ravana..
Aaa.. Aa.. Aaa..
The Villain [2018] Kannada Songs Lyrics
I Am Villain
Tick Tick Tick
Love Aagoythe
Nodivalandava
Bolo Bolo Raamappa
Rana Rana Raavana
Comments
comments