October 23, 2018
Yendendigu Naa Ninna Song Lyrics | Naa Ninna Bidalaare
Yendendigu Naa Ninna Song Lyrics | Naa Ninna Bidalaare: Yendendigu Naa Ninna Bidalaare [Endendigoo Naa Ninna] is a Kannada song from the 1979 Kannada movie Naa Ninna Bidalaare, directed by noted director Vijay. The film was produced by C. Jayaram under the banner Sapthaswara Movie Makers.
Naa Ninna Bidalaare features Ananth Nag, Lakshmi, M. Leelavathi, T. N. Balakrishna, K. S. Ashwath, K. Vijaya, Musuri Krishnamurthy, M. S. Sathya, Ashwath Narayana, Hanumanthachar, Shivaprakash, Sathish, Bheema Rao, Kunigal Ramanath, Master J Prakash and others. Saregama is the music label of this movie. This song was rendered by P. Susheela. Yendendigu Naa Ninna song was composed by Rajan-Nagendra and lyrics were penned by Chi. Udaya Shankar.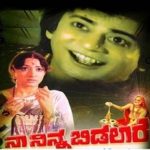 Endendigoo Naa Ninna Lyrics
Movie: Naa Ninna Bidalaare [1979]
Record Label: Saregama
Music by: Rajan-Nagendra
Lyrics by: Chi. Udaya Shankar
Sung by: P. Susheela
Check out the lyrics here..
Yendendigu Naa Ninna Bidalaare Baa Chenna
Bidalaare Baa Chenna
Yeneno Kanasu Ninnalle Manasu Nannaase Pooraisu
Yendendigu Naa Ninna Bidalaarenu Hmmm Hmmm Hmmm
Yeke Inneke Mouna Nalla Ninnalle Praana
Yeke Inneke Mouna Nalla Ninnalle Praana
Sanihake Bandu Sukhavanu Thandu Kaanada Aananda Hondu
Rathri Yarilla Illi Ninna Manaseega Yelli
Bali Ire Naanu Bhayavinnenu Seralu Sankochavenu
Yendendigu Naa Ninna Bidalaarenu Hmmm Hmmm Hmmm
Chaliya Naa Thaalalaare Doora Naa Nillalaare
Chaliya Naa Thaalalaare Doora Naa Nillalaare
Tholali Balasu Muththanu Surisu Mai Mana Santhosha Padisu
Beku Yendaaga Naanu Yendu Enannu Bidenu
Baanalle Irali Kadalalle Irali
Honde Honduve Naanu
Yendendigu Naa Ninna Bidalaare Baa Chenna
Bidalaare Baa Chenna
Yeneno Kanasu Ninnalle Manasu Nannaase Pooraisu
Yendendigu Naa Ninna Bidalaarenu Hmmm Hmmm Hmmm
Yendendigu Naa Ninna Bidalaarenu Hmmm Hmmm Hmmm
Naa Ninna Bidalaare [1979] Songs
Bidenu Ninna Paada Guruve Bidenu Ninna Paada
Naanu Neenu Ondaada Mele
Hosa Baalige Nee Jotheyaade
Yendendigu Naa Ninna Bidalaare
Comments
comments