October 23, 2018
Bidenu Ninna Paada Song Lyrics | Naa Ninna Bidalaare
Bidenu Ninna Paada Song Lyrics | Naa Ninna Bidalaare: Bidenu Ninna Paada is famous Kannada song from the 1979 Kannada movie Naa Ninna Bidalaare, directed by noted director Vijay. Naa Ninna Bidalaare features Ananth Nag, Lakshmi, M. Leelavathi, T. N. Balakrishna, K. S. Ashwath, K. Vijaya, Musuri Krishnamurthy, M. S. Sathya, Ashwath Narayana, Hanumanthachar, Shivaprakash, Sathish, Bheema Rao, Kunigal Ramanath, Master J Prakash and others.
The film was produced by C. Jayaram under the banner Sapthaswara Movie Makers. Saregama is the music label of this movie. This song was rendered by S. Janaki. Bidenu Ninna Paada song was composed by Rajan-Nagendra and lyrics were penned by Chi. Udaya Shankar.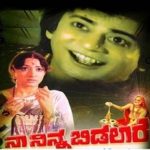 Bidenu Ninna Paada Lyrics
Movie: Naa Ninna Bidalaare [1979]
Record Label: Saregama
Music by: Rajan-Nagendra
Lyrics by: Chi. Udaya Shankar
Sung by: S. Janaki
Check out the lyrics here..
Raaghavendra Nee Mounavaadare Nanna Gathiyenu
Ninna Karuneya Jyothi Baala Belaguva Thanakaa
Bidenu Ninna Paada Bidenu Ninna Paada
Bhoomiyu Biriyali Gaganavu Nadugali
Bhoomiyu Biriyali Gaganavu Nadugali
Saagara Keralali Girigalu Vurulali
Bidenu Ninna Paada Bidenu Ninna Paada
Bidenu Ninna Paada Guruve Bidenu Ninna Paada
Pathiya Praanavanu Ulisuva Thanaka
Andhakaaravanu Alisuva Thanaka
Bidenu Ninna Paada Ninna Naamaveda
Bidenu Ninna Paada Guruve Bidenu Ninna Paada
Mudida Hoogalu Mududi Hogutha Baaduthide Baaduthide
Arishina Kunkuma Bevarali Berethu Karaguthide Karaguthide
Nanna Korala Mangalyavu Kalachi Jaaruthide Jaaruthide
Baalina Jyothiyu Gaalige Siluki Aaruthide Aaruthide
Moreya Kelade Karune Thorade
Praana Ulisade Nanna Harasade
Bidenu Ninna Paada Bidenu Ninna Paada
Bhoomiyu Biriyali Gaganavu Nadugali
Saagara Keralali Girigalu Vurulali
Bidenu Ninna Paada Guruve Bidenu Ninna Paada
Dushta Shakthiyu Attahaasadali Naguthalide Naliyuthide
Damana Maaduva Daiva Shakthiyu Kaanisade Kenakuthide
Aluva Hennina Aarthanaadavu Kelisade Dayebarade
Daari Kaanenu Raghavendrane Nee Barade Kai Bidade
Sahiso Shakthiya Neenu Dahisade
Daiva Shakthiya Mahime Thorade
Bidenu Ninna Paada Guruve Bidenu Ninna Paada
Pathiya Praanavanu Ulisuva Thanaka
Andhakaaravanu Alisuva Thanaka
Bidenu Ninna Paada Ninna Naamaveda
Raghavendra Raghavendra Yogeendra Yogeendra
Raaghavendra Raaghavendra
Naa Ninna Bidalaare [1979] Songs
Bidenu Ninna Paada Guruve Bidenu Ninna Paada
Naanu Neenu Ondaada Mele
Hosa Baalige Nee Jotheyaade
Yendendigu Naa Ninna Bidalaare
Comments
comments