January 4, 2018
Yarigu Helbedi Song Lyrics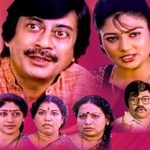 Yarigu Helbedi Song Lyrics: Yarigu Helbedi is a 1994 Kannada movie, directed by Kodlu Ramakrishna. Yaarigu Helbedi features Anant Nag, Vinaya Prasad, Mukhyamantri Chandru, Vaishali Kasaravalli, Vanitha Vasu, Shivaram, Ramakrishna, Doddanna, Lokesh, Girija Lokesh, Satyabhama and others. Jhankar Music was the music label of this movie.
All Songs of the movie were composed by Rajan–Nagendra with lyrics penned by R. N. Jayagopal. Songs were rendered by S. P. Balasubrahmanyam, Manjula Gururaj, G. Asha, Sangeeta Katti and Kusuma.
Check out the lyrics here..
Daya Maado Ranga Lyrics
Movie: Yaarigu Helbedi [1994]
Music Label: Jhankar Music
Music: Rajan–Nagendra
Lyrics: R. N. Jayagopal
Singers: G. Asha
Olle Kaala Baruthalide Lyrics
Movie: Yaarigu Helbedi [1994]
Music Label: Jhankar Music
Music: Rajan–Nagendra
Lyrics: R. N. Jayagopal
Singers: S. P. Balasubrahmanyam, Manjula Gururaj
Hogu Manase Hogu Nalle Balige Lyrics
Movie: Yaarigu Helbedi [1994]
Music Label: Jhankar Music
Music: Rajan–Nagendra
Lyrics: R. N. Jayagopal
Singers: S. P. Balasubrahmanyam, G. Asha
Namma Mane Swantha Mane Lyrics
Movie: Yaarigu Helbedi [1994]
Music Label: Jhankar Music
Music: Rajan–Nagendra
Lyrics: R. N. Jayagopal
Singers: Manjula Gururaj, Sangeeta Katti, Kusuma
Comments
comments