June 19, 2018
Thavarondu Chinthe Lyrics | Deergha Sumangali
Thavarondu Chinthe Lyrics | Deergha Sumangali:  Thavarondu Chinthe is a song from the 1995 Kannada movie Deergha Sumangali, directed by D. Rajendra Babu and produced by D. R. Umashankari, R. Venkata Raju under the banner Adithya Movie Makers. Deergha Sumangali features Sithara, Devan, Ramakrishna, Srinivasa Murthy, B. V. Radha, Lakshman, Richard Louis, Srishailan, M. S. Karanth, Brahmavar and others with Vishnuvardhan in Guest Appearance. Jhankar Music is the music label of this movie. This song was composed and written by Hamsalekha. Thavarondu Chinthe song was rendered by playback singe S. P. Balasubrahmanyam.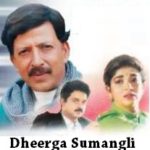 Thavarondu Chinthe lyrics
Movie: Deergha Sumangali [1995]
Music Label: Jhankar Music
Music: Hamsalekha
Lyrics: Hamsalekha
Singers: S. P. Balasubrahmanyam
Check out the lyrics here..
Thavarondu Chinthe
Thavarondu Chinthe Basirondu Chinthe |2|
Soorillada Hennige Nooru Chinthe
Hennige Gandanade Meru Chinthe
Thavarondu Chinthe Basirondu Chinthe |2|
Soorillada Hennige Nooru Chinthe
Hennige Gandanade Meru Chinthe
Nillade Odo Neeranthe Hennina Baalanthe
Belesutha Belagutha Nadevalu
Balyavu Onde Avala Sukhada Jeevana
Youvvanadinda Modalu Avala Rodhana
Ondara Mele Ondu Chinthe Horegalu
Mulugo Varegu Bidadu Baala Suligalu
Baduku Premaanjali Hrudayadaase Deergha Sumangali
Thavarondu Chinthe Basirondu Chinthe |2|
Soorillada Hennige Nooru Chinthe
Hennige Gandanade Meru Chinthe
Baalina Hogeya Bandi Jothe Saavira Kondigalu
Yarigo Yaarano Besevudu
Thiruvina Mele Thiruvu Iruva Baalali
Yaarigo Yaaro Alalunagalu Jotheyali
Haliyu Thappida Onti Henna Katheyali
Preethiya Bharavase Onde Usiru Yedeyali
Baduku Premaanjali Hrudayadaase Deergha Sumangali
Thavarondu Chinthe Basirondu Chinthe |2|
Soorillada Hennige Nooru Chinthe
Hennige Gandanade Meru Chinthe
Comments
comments