October 8, 2018
Amma Ninna Maganemba Hemme Song Lyrics | Thayige Thakka Maga
Amma Ninna Maganemba Hemme Song Lyrics | Thayige Thakka Maga: Amma Ninna Maganemba Hemme is a Kannada song from an upcoming 2018 Kannada movie Thayige Thakka Maga, directed by Shashank Taalya and written by Shashank, Ravi Chakravarthy, Gopi Iyengar.
Amma Ninna Maganemba Hemme song was rendered by playback singer Deepak Doddera. This song was composed by Judah Sandhy. Lyrics were written by Kannada lyricist Shashank Sheshagiri.
The film was produced by Shashank, Raghavendra P S, Ramesh K. Aananda Audio is the record label of this movie. Thayige Thakka Maga star cast includes actors Ajay Rao, Ashika Ranganath, Sumalatha, Achyuth Kumar, Sadhu Kokila, Hebbale Krishna, Saurav Lokesh, BHajarangi Loki and others.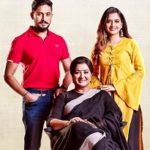 Amma Ninna Song Lyrics
Movie: Thayige Thakka Maga [2018]
Record Label: Aananda Audio Video
Music by: Judah Sandhy
Lyrics by: Shashank Sheshagiri
Rendered By: Narayan Sharma
Check out the lyrics here..
Amma Ninna Maganemba Hemme
Beku Nanage Prathi Janmaku
Amma Ninna Maganemba Hemme
Beku Nanage Prathi Janmaku
Sari Saati Irada Ninna Preethi
Saviya Beku Yendendigu
Amma Ninna Madilalli Jaaga
Needu Nanage Prathi Janmaku
Ninna Paata Shale Vatsalya Maale
Beku Endendigu Neene Naanendigu
Yene Novanna Naa Nungalu
Koogo Padavene Neenallave
Ninnella Novina Dayadinda Thaane
Nannella Naguvina Kshanavellavu
Ninna Kai Thuththa Runa Bhara Nanna Melide
Theerodu Uliyodu Ninna Kailide
Amma Ninna Maganemba Hemme
Beku Nanage Prathi Janmaku
Amma Neene Kotta Jeeva
Ninna Kaayo Saluvaagide
Ninna Hesara Jothege Thaane
Nanna Usiru Berethaagide
Jaga Poojisali Nooraaru Shileyaadaru
Neenene Yendendu Nanna Devaru
Amma Ninna Maganemba Hemme
Beku Nanage Prathi Janmaku
Sari Saati Irada Ninna Preethi
Saviya Beku Yendendigu
Amma Ninna Madilalli Jaaga
Needu Nanage Prathi Janmaku
Ninna Paata Shale Vatsalya Maale
Beku Endendigu Neene Naanendigu
Neene Naanendigu
Thayige Thakka Maga [2018] Songs
Hrudayake Hedarike
Sakkare Naguva
Amma Ninna
Thayige Thakka Maga Title Track
Usira Thantiye
Comments
comments