October 8, 2018
Thayige Thakka Maga Song Lyrics
Thayige Thakka Maga Song Lyrics: Usira Thantiye is a Kannada song from an upcoming 2018 Kannada movie Thayige Thakka Maga, directed by Shashank Taalya and written by Shashank, Ravi Chakravarthy, Gopi Iyengar. This song was composed by Judah Sandhy. Lyrics were written by Kannada lyricist Shashank Sheshagiri. Thayige Thakka Maga title track was rendered by playback singers Chandan Shetty.
The film was produced by Shashank, Raghavendra P S, Ramesh K. Aananda Audio is the record label of this movie. Thayige Thakka Maga star cast includes actors Ajay Rao, Ashika Ranganath, Sumalatha, Achyuth Kumar, Sadhu Kokila, Hebbale Krishna, Saurav Lokesh, Bhajarangi Loki and others.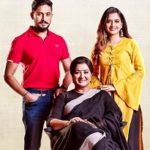 Thayige Thakka Maga Song Lyrics
Movie: Thayige Thakka Maga [2018]
Record Label: Aananda Audio Video
Music by: Judah Sandhy
Lyrics by: Shashank Sheshagiri
Rendered By: Chandan Shetty
Check out the lyrics here..
Side-U Bidu Maga Salute Hodi Maga
Ivana Route-Anu Follow Madu Maga
Obbane Sainya Shree Samanya
Sathyave Ivana Pancha Janya
Side-U Bidu Maga Salute Hodi Maga
Ivana Route-Anu Follow Madu Maga
Neethige Bhadda Sevege Sidhdha
Preethige Budhdha Nyayake Yudhdha
Ivane Kano Thayige Thakka Thakka Thakka Thakka Maga
Benki Kano Thayige Thakka Thakka Thakka Thakka Maga
My Name Is Mohan Das Son Of Parvathy
Nammamma Kaanoon Follow Madthare
Naanu Nammammana Matra Follow Madthini
Kempu Mogada Soorya Ivanu
Ammane Ivana Dhairya
Homada Kunda Ivanu
Shikshe Koduva Yamanu
Yarigu Bagonalla
Savige Hedaronalla
Hoovanu Kaayo Mullu
Thayiya Kaayo Maganu
Ivane Kano Thayige Thakka Thakka Thakka Thakka Maga
Benki Kano Thayige Thakka Thakka Thakka Thakka Maga
Para Swaththige Bayasolla Anyayava Sahisolla
Iva Nadiyo Daarili Kettoru Uliyolla
Haaradi Mereyorna Hodidene Hogalla
Thaayige Avamaana Maadorna Kshamisolla
Side-U Bidu Maga Salute Hodi Maga
Ivana Route-Anu Follow Madu Maga
Neethige Bhadda Sevege Sidhdha
Preethige Budhdha Nyayake Yudhdha
Thappu Madi Ivana Kaige Sikre Neenu Saththange
Ivane Kano Thayige Thakka Thakka Thakka Thakka Maga
Benki Kano Thayige Thakka Thakka Thakka Thakka Maga
Thayige Thakka Maga [2018] Songs
Hrudayake Hedarike
Sakkare Naguva
Amma Ninna
Thayige Thakka Maga Title Track
Usira Thantiye
Comments
comments