November 19, 2018
Natyarani Shanthale Lyrics | Aduva Gombe
Natyarani Shanthale Lyrics | Aduva Gombe: Natyarani Shanthale is a Kannada song from an upcoming 2018 Kannada movie Aduva Gombe, written and directed by S. K. Bhagavan of Dorai – Bhagwan fame. This film marks the 50th film of director S. K. Bhagavan. Jabez K. Ganesh is the director of photography and Shivaprasad Yadav, Bharat Gowda are Editors. The film was produced by A. Shivappa and K. Venugopal under the banner Kasturi Nivasa Creations.
Aduva Gombe features Anant Nag, Sanchari Vijay, Sudha Belawadi and others. PRK Audio is the music label of this movie. This song was penned by lyricist V. Nagendra Prasad and composed by Hemant Kumar. Natyarani Shanthale song was rendered by playback singer Supriya Lohith.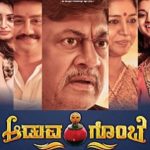 Natyarani Shantale Lyrics
Movie: Aduva Gombe [2018]
Music Label: PRK Audio
Music by: Hemant Kumar
Lyrics by: V. Nagendra Prasad
Singer: Supriya Lohith
Check out the lyrics here..
Dhinak Dhinak Thaka Dhinak Dhinak Thaka Thaa Dhin Thaa |2|
Natyarani Shanthale
Bhava Bhangi Thorale
Kudi Notadi Nudi Aaduva
Ee Narthana Vaibhava
Saragadi Sere Maaduva
Ee Hejjeya Chandama
Vaiyyara Nodo Kannu
Apachara Mado Kannu
Kaleyannu Nodode Illa
Vardana Kelodilla
Avamana Sahisodilla
Natyakke Dharma Yenilla
Manasa Nagiso Kuniso
Kaleya Sogasa Naliso
Natyarani Shanthale
Bhava Bhangi Thorale
Ee Paada Thaanagi
Dhimitha Thaala Haakide
Ee Bhaava Aavarisi
Madhura Naa Maadide
Kalavathi Kalavidhe
Kaaveri Aalayavu
Sunaadada Vicharadi
Aa Sharade Roopavu
Vilaasava Vinodadi
Kaleyondu Daivathva Daivathva
Natyarani Shanthale
Kudi Notadi Nudi Aaduva
Ee Narthana Vaibhava
Ee Hejjeya Chandama
Aduva Gombe [2018] Songs
Aa Dev Roopisida Andadaa Gombe Lyrics
Movie: Aduva Gombe [2018]
Music Label: PRK Audio
Music by: Hemant Kumar
Lyrics by: S. K. Bhagavan
Singer: Puneeth Rajkumar
Adisi Nodu Beelisi Nodu Lyrics
Movie: Aduva Gombe [2018]
Music Label: PRK Audio
Music by: Hemant Kumar
Lyrics by: S. K. Bhagavan
Singer: Raghavendra Rajkumar
Pisumaathige Thusu Saligege Lyrics
Movie: Aduva Gombe [2018]
Music Label: PRK Audio
Music by: Hemant Kumar
Lyrics by: Kaviraj
Singers: Shiva Rajkumar, Manasa Holla
Madarangee Madarangee Manada Tumba Lyrics
Movie: Aduva Gombe [2018]
Music Label: PRK Audio
Music by: Hemant Kumar
Lyrics by: Kaviraj
Singer: Anuradha Bhat
O Madana Lyrics
Movie: Aduva Gombe [2018]
Music Label: PRK Audio
Music by: Hemant Kumar
Lyrics by: V. Nagendra Prasad
Singer: Remo
Comments
comments