November 19, 2018
O Madana Song Lyrics | Aduva Gombe
O Madana Song Lyrics | Aduva Gombe: O Madana Hareya Araluthide is a Kannada song from an upcoming 2018 Kannada movie Aduva Gombe, written and directed by S. K. Bhagavan of Dorai – Bhagwan fame.  The film was produced by A. Shivappa and K. Venugopal under the banner Kasturi Nivasa Creations. This film marks the 50th film of director S. K. Bhagavan. Jabez K. Ganesh is the director of photography and Shivaprasad Yadav, Bharat Gowda are Editors.
Aduva Gombe features Anant Nag, Sanchari Vijay, Sudha Belawadi and others. PRK Audio is the music label of this movie. This song was penned by lyricist V. Nagendra Prasad and composed by Hemant Kumar. Oo Madana Hareya Araluthide song was rendered by playback singer Remo.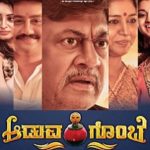 O Madana Lyrics
Movie: Aduva Gombe [2018]
Music Label: PRK Audio
Music by: Hemant Kumar
Lyrics by: V. Nagendra Prasad
Singer: Remo
Check out the lyrics here..
Nodu Baa.. Nadu Raathriya..
Ee.. Thadavariso.. Thada Raathriya..
Oo Madana.. Hareya Araluthide
Chaliya.. Kaleva Aaseyaagide
Madana Madana Hey Madana Madana
Manasella Nina Melide
Saniha.. Bayasi.. Viraha Sahisi
Thanuvella Naralaadide
Eega Naanu Aade Virahada Raadhe
Mohadaramanege Koogi Karediruve..
Oo Madana..aa..
Doora Hogabeda
Doora Nookabeda
Hoove Dumbi Balige
Bandanthe Samaya Noda
Adhara Sudheya Thande
Savi Omme —-
Ninagaagi Hutti Bande
Nanadella Innu Ninde
Deha.. Thelaadiso..
Viraha.. Nee Neegiso..
Cheluva Olidu Aaseya Aaliso Laaliso
Oo Madana Hareya Araluthide
Chaliya Kaleva Aase Yaagide
Ohooo Ohooo Aaha Haa Aaa
Thaana Naana Na
Aduva Gombe [2018] Songs
Aa Dev Roopisida Andadaa Gombe Lyrics
Movie: Aduva Gombe [2018]
Music Label: PRK Audio
Music by: Hemant Kumar
Lyrics by: S. K. Bhagavan
Singer: Puneeth Rajkumar
Adisi Nodu Beelisi Nodu Lyrics
Movie: Aduva Gombe [2018]
Music Label: PRK Audio
Music by: Hemant Kumar
Lyrics by: S. K. Bhagavan
Singer: Raghavendra Rajkumar
Pisumaathige Thusu Saligege Lyrics
Movie: Aduva Gombe [2018]
Music Label: PRK Audio
Music by: Hemant Kumar
Lyrics by: Kaviraj
Singers: Shiva Rajkumar, Manasa Holla
Madarangee Madarangee Manada Tumba Lyrics
Movie: Aduva Gombe [2018]
Music Label: PRK Audio
Music by: Hemant Kumar
Lyrics by: Kaviraj
Singer: Anuradha Bhat
Natyarani Shantale Lyrics
Movie: Aduva Gombe [2018]
Music Label: PRK Audio
Music by: Hemant Kumar
Lyrics by: V. Nagendra Prasad
Singer: Supriya Lohith
Comments
comments