October 8, 2018
Hrudayake Hedarike Song Lyrics | Thayige Thakka Maga
Hrudayake Hedarike Song Lyrics | Thayige Thakka Maga: Hrudayake Hedarike is a Kannada song from an upcoming 2018 Kannada movie Thayige Thakka Maga, directed by Shashank Taalya and written by Shashank, Ravi Chakravarthy, Gopi Iyengar. The film was produced by Shashank, Raghavendra P S, Ramesh K. This song was composed by Judah Sandhy. Lyrics were written by famous Kannada lyricist Jayanth Kaikini.
Aananda Audio is the record label of this movie. Thayige Thakka Maga star cast includes actors Ajay Rao, Ashika Ranganath, Sumalatha, Achyuth Kumar, Sadhu Kokila, Hebbale Krishna, Saurav Lokesh, BHajarangi Loki and others. Hrudayake Hedarike song was rendered by playback singers Sanjith Hegde and Sangeetha Ravindranath.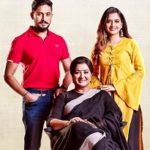 Hrudayake Hedarike Song Lyrics
Movie: Thayige Thakka Maga [2018]
Record Label: Aananda Audio Video
Music by: Judah Sandhy
Lyrics by: Jayanth Kaikini
Rendered By: Sanjith Hegde, Sangeetha Ravindranath
Check out the lyrics here..
Hrudayake Hedarike Heege Nodidare
Hudukutha Baruveya Helade Hodare
Yedeyalli Birugaali Modalene Iththu
Nee Nanage Yenendu Nanagashte Goththu
Hrudayake Hedarike Heege Nodidare
Hudukutha Baruveya Helade Hodare
O Marave Ninna Thabbi Habbuthiro
Balli Naanu Mellage Vicharisu Nanna
Mai Marethu Ninna Munde Varthisuva
Malli Naanu Kopavu Nivalisu Chinna
Nee Nange Dorethantha Sihiyaada Maththu
Ninagaago Kanasella Nanagashte Goththu
Muchchiruva Kanninallu Moodiruva Banna Neenu
Muththidu Maathaduva Munna
Nene Nenedu Thumba Soragi Agiruve Sanna Naanu
Hidisuvenu Hrudayadalli Ninna
Naa Ninna Bigidappi Iruvantha Hoththu
Jagavella Mareyaaythu Nanagashte Goththu
Hrudayake Hedarike Heege Nodidare
Hudukutha Baruveya Helade Hodare
Thayige Thakka Maga [2018] Songs
Hrudayake Hedarike
Sakkare Naguva
Amma Ninna
Thayige Thakka Maga Title Track
Usira Thantiye
Comments
comments