May 6, 2018
Ee Hareyada Ullasavu Lyrics | Mruthyunjaya
Ee Hareyada Ullasavu Lyrics | Mruthyunjaya: Ee Hareyada Ullasavu is a song from the 1990 Kannada movie Mruthyunjaya, directed by Chi. Dattaraj and written by Chi. Udaya Shankar. The film was produced by Raghavendra Rajkumar under Vajreshwari combines.
Mruthyunjaya features Shivarajkumar, Malashri, Shashikumar, K. S. Ashwath, Shivakumar, Dheerendra Gopal, Sundar Krishna Urs, Umashri, Rekha Das, Shubha, Sujatha, Saraswathamma, Bheema Rao, Prithviraj, Honnavalli Krishna, Ashwath Narayana, Srimathi, Chandrakumari, Sathish, Bhatti Mahadevappa, M. N. Ramamurthy, Srishailan and others.
Sangeetha music is the audio label of this movie. This song was composed by Upendra Kumar with lyrics penned by Chi. Udayashankar. Ee Hareyada Ullasavu song was rendered by playback singer S. P. Balasubrahmanyam.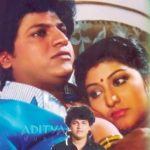 Ee Hareyada Ullasavu Lyrics
Movie: Mruthyunjaya [1990]
Music Label: Sangeetha
Music: Upendra Kumar
Lyrics: Chi Udayashankar
Singers: S. P. Balasubrahmanyam
Check out the lyrics here..
Ee Hareyada Ullasavu
Mai Mareyuva Santhoshavu
Ee Hareyada Ullasavu
Mai Mareyuva Santhoshavu
Ee Sangaathiyu Seridaaga
Jothe Sangeetha Rangeridaaga
Ee Sangaathiyu Seridaaga
Jothe Sangeetha Rangeridaaga
Hosa Sandeshava Thandide
Ee Hareyada Ullasavu
Mai Mareyuva Santhoshavu
Ee Hareyada Ullasavu
Mai Mareyuva Santhoshavu
Ee Sangaathiyu Seridaaga
Jothe Sangeetha Rangeridaaga
Ee Sangaathiyu Seridaaga
Jothe Sangeetha Rangeridaaga
Hosa Sandeshava Thandide
Olavina Geleyara Naduve Preethiyu Araliruvaaga
Cheluveya Naduvanu Balasi Mohavu Keraliruvaaga
Ee Khushiyalli Mai Yella Bisiyaagi
Ee Aananda Yendendu Hasiraagi
Ee Irulella Sogasaagide
Ee Hareyada Ullasavu
Mai Mareyuva Santhoshavu
Ee Sangaathiyu Seridaaga
Jothe Sangeetha Rangeridaaga
Ee Sangaathiyu Seridaaga
Jothe Sangeetha Rangeridaaga
Hosa Sandeshava Thandide
Kaamanu Manavanu Kenaki Sangavu Bayasiruvaaga
Snehadi Yellaru Seri Sambhrama Thumbiruvaaga
Savi Nenapondu Yedeyalli Sulidaaga
Thuti Sihiyaada Muththondu Padedaaga
Aaha Mai Yella Zhumm Yendide
Ee Hareyada Ullasavu
Mai Mareyuva Santhoshavu
Ee Sangaathiyu Seridaaga
Jothe Sangeetha Rangeridaaga
Ee Sangaathiyu Seridaaga
Jothe Sangeetha Rangeridaaga
Hosa Sandeshava Thandide
Mruthyunjaya [1990] Kannada Songs
Ee Hareyada Ullasavu
Nee Kanasali Baruthiruve
Kandora Jebige Kaththari
Yaaru Yenu Maaduvaru
Muththu Muththu Maathu Muththu
Comments
comments