May 6, 2018
Nee Kanasali Baruthiruve Lyrics | Mruthyunjaya
Nee Kanasali Baruthiruve Lyrics | Mruthyunjaya: Nee Kanasali Baruthiruve is a song from the 1990 Kannada movie Mruthyunjaya, directed by Chi. Dattaraj and written by Chi. Udaya Shankar. The film was produced by Raghavendra Rajkumar under Vajreshwari combines.
Mruthyunjaya features hatrick hero Shivarajkumar, Malashri, Shashikumar, K. S. Ashwath, Shivakumar, Dheerendra Gopal, Sundar Krishna Urs, Umashri, Rekha Das, Shubha, Sujatha, Saraswathamma, Bheema Rao, Prithviraj, Honnavalli Krishna, Ashwath Narayana, Srimathi, Chandrakumari, Sathish, Bhatti Mahadevappa, M. N. Ramamurthy, Srishailan and others.
Sangeetha music is the audio label of this movie. This song was composed by Upendra Kumar with lyrics penned by Chi. Udayashankar. Nee Kanasali Baruthiruve song was rendered by playback singers S. P. Balasubrahmanyam and Manjula Gururaj.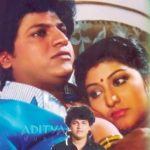 Nee Kanasali Baruthiruve Lyrics
Movie: Mruthyunjaya [1990]
Music Label: Sangeetha
Music: Upendra Kumar
Lyrics: Chi. Udayashankar
Singers: S. P. Balasubrahmanyam, Manjula Gururaj
Check out the lyrics here..
Nee Kanasali Baruthiruve
Nanna Manasanu Selediruve
Nee Anudina Irulali Kenakuve Nanna Yeke
Nanna Tholali Balasuthali
Mai Chaliyanu Nunguthali
Nee Thuntaata Aadodu Yeke
Nee Kanasali Baruthiruve
Nanna Manasanu Selediruve
Nee Anudina Irulali Kenakuve Nanna Yeke
Yedeyali Dhava Dhava Yenuthide Kelade
Thaalenu Thala Mala Oushadi Yellide
Premada Rogake Nannali Yenide
Kai Gala Mugiyuve Hogu Nee Kaadade
Ee Naachike Innethake Ondaaguva Baare
Nee Kanasali Baruthiruve
Nanna Manasanu Selediruve
Nee Anudina Irulali Kenakuve Nanna Yeke
Laalala Laalaa Laala Laala Laala |2|
Heegeye Summane Kaalava Kaleveya
Eegale Baruveya Aaguva Maduveya
Thandeya Thaayiya Iniyane Maretheya
Aathura Thorade Nannanu Biduveya
Nannasege Bedennaru Avarendigu Nalle
Nee Kanasali Baruthiruve
Nanna Manasanu Selediruve
Nee Anudina Irulali Kenakuve Nanna Yeke
Mruthyunjaya [1990] Kannada Songs
Ee Hareyada Ullasavu
Nee Kanasali Baruthiruve
Kandora Jebige Kaththari
Yaaru Yenu Maaduvaru
Muththu Muththu Maathu Muththu
Comments
comments