October 8, 2018
Sakkare Naguva Song Lyrics | Thayige Thakka Maga
Sakkare Naguva Song Lyrics | Thayige Thakka Maga: Sakkare Naguva is a Kannada song from an upcoming 2018 Kannada movie Thayige Thakka Maga, directed by Shashank Taalya and written by Shashank, Ravi Chakravarthy, Gopi Iyengar. The film was produced by Shashank, Raghavendra P S, Ramesh K. This song was composed by Judah Sandhy. Lyrics were written by Kannada lyricist Raghavendra C.V.
Aananda Audio is the record label of this movie. Thayige Thakka Maga star cast includes actors Ajay Rao, Ashika Ranganath, Sumalatha, Achyuth Kumar, Sadhu Kokila, Hebbale Krishna, Saurav Lokesh, BHajarangi Loki and others. Sakkare Naguva song was rendered by playback singer Deepak Doddera.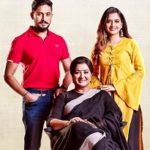 Sakkare Naguva Song Lyrics
Movie: Thayige Thakka Maga [2018]
Record Label: Aananda Audio Video
Music by: Judah Sandhy
Lyrics by: Raghavendra C.V.
Rendered By: Deepak Doddera
Check out the lyrics here..
Yedeya Olage Balagalittu Bande Neenu
Yendu Irada Ondu Khushiya Thande Neenu
Dadadi Ninthu Ninnaya Alege
Karagi Hoda Shileyaade Naanu
Sakkare Naguva Cheluve Ninage Sothe Naanu
Hunnime Holapu Neenu Ninage Sothe Naanu
Sakkare Naguva Cheluve Ninage Sothe Naanu
Hunnime Holapu Neenu Ninage Sothe Naanu
Sakkare Naguva Cheluve Ninage Sothe Naanu
Hunnime Holapu Neenu Ninage Sothe Naanu
Ho Kanasali Kanda Achchariyu
Aha Seride Nanna Dinachariyu
Ivalu Hoogtto Hoovina Udyana
Shuru Avalalli Guttaago Abhiyaana
Innu Bekeenuvaagella Yekaantha
Baanu Malagithe Mudaagi Angaatha
Malebille Nee Nalle
Sakkare Naguva Cheluve Ninage Sothe Naanu
Hunnime Holapu Neenu Ninage Sothe Naanu
Inuki Nodu Omme Nanna Manasa Neenu
Onde Chithra Onde Vishaya Neene Neenu
Bayasi Bayasi Ninnaya Olava
Hatava Hidida Maguvaade Naanu
Sakkare Naguva Cheluve Ninage Sothe Naanu
Hunnime Holapu Neenu Ninage Sothe Naanu
Thayige Thakka Maga [2018] Songs
Hrudayake Hedarike
Sakkare Naguva
Amma Ninna
Thayige Thakka Maga Title Track
Usira Thantiye
Comments
comments