October 21, 2020
Navarathriya Dinadali Shrigandhada Oorali Lyrics | Kannada Navaratri Songs
Navarathriya Dinadali Shrigandhada Oorali Lyrics | Kannada Navaratri Songs: Navarathriya Dinadali Shrigandhada Oorali is a Kannada devotional song about Goddess Chamundeshwari. Chamundi Devi or Chamundi is a form of the Hindu Divine Mother Parvathi.
This Navratri special Kannada devotional songs on Durga, Chamundeshwari are sung during the Navarathri festival and also during the Golu decorations as well.
Navaratri or Durga Puja festival is associated with goddess Durga. Navaratri is a Hindu festival that spans nine nights and ten days. This festival is celebrated for different reasons and celebrated differently in various parts of India. Navaratri is celebrated as the Durga Puja festival in West Bengal. In Karnataka, It is called Dasara.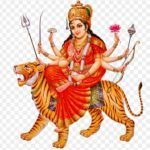 Song: Navarathriya Dinadali Shrigandhada Oorali
Album: Aigirinandini Sthothramala
Singers: Bangalore Sisters
Music: Sujatha Dutt
Lyrics: N/A
Label : Shruthi Tracks
Check out the lyrics here..
Navarathriya Dinadali Shrigandhada Oorali
Chamundige Vaibhava Malligeya Giriyali
Navarathriya Dinadali Shrigandhada Oorali
Chamundige Vaibhava Malligeya Giriyali
Nava Shakthige Wadeyarinda Divya Pooje Gudiyali
Nava Vidhada Hoovininda Archaneyu Dhareyali
Nava Dinavu Nava Naveena Vaahanada Therali
Navarathriya Uthsava Chamundige Ileyali
Navaratriya Dinadali Srigandhada Oorali
Chaamundige Vaibhava Malligeya Giriyali
Nava Vidhada Seve Padeye Chamundi Valivalu
Nava Dhanya Nava Phalaphalava Salise Ambe Porevalu
Navadurgeya Roopalivalu Mysoorina Ramyalu
Navarathriya Vaibhavada Siriya Tanda Bhavyalu
Navaratriya Dinadali Srigandhada Oorali
Chaamundige Vaibhava Malligeya Giriyali
Navarathri Nava Alankaaravannu Padevalu
Nava Vasthradi Ambariyanneri Ambe Baruvalu
Nava Laasyada Naatyaraani Kailasada Odeyalu
Navaratriya Habbadhirime Dharege Thanda Amithalu
Navarathriya Dinadali Shrigandhada Oorali
Chamundige Vaibhava Malligeya Giriyali
Navarathnada Mukuta Haara Thotta Divya Charithalu
Navaneethalu Harana Ardha Deha Padeda Vandyalu
Nava Vidhada Bhakshyavirise Nava Bhagyava Surivalu
Navarathriya Dinadi Navagrahada Dosha Kalevalu
Navaratriya Dinadali Srigandhada Oorali
Chamundige Vaibhava Malligeya Giriyali
Nava Vaadyada Sangeethake Ambe Nalidu Kunivalu
Nava Naadadi Odagoodi Omkaravamulivalu
Nava Kalmasha Kaledu Thayi Baduka Hasanagaivalu
Nava Vidhada Abhishekava Chandadinda Padevalu
Navarathriya Dinadali Shrigandhada Oorali
Chamundige Vaibhava Malligeya Giriyali
Navarathnada Simhasana Yeri Durge Nalivalu
Nava Mantrava Patisi Bhajise Chamundi Olivalu
Navaragadi Hogali Paade Nammellara Porevalu
Nava Arathi Belagi Bede Nava Doshava Kalevalu
Navarathriya Dinadali Shrigandhada Oorali
Chamundige Vaibhava Malligeya Giriyali |4|
Comments
comments