October 7, 2018
Preethine Onthara Song Lyrics | Ondu Sanna Break Na Nantara
Preethine Onthara Song Lyrics | Ondu Sanna Break Na Nantara: Preethine Onthara is a song from an upcoming 2018 Kannada movie Ondu Sanna Break Na Nantara, directed by Abhilash Gowda. The film was produced by Sarvashree under the banner Colorful Crystal Combines.
The film features Hithan Hassan, Ammani, Surya, Kiran, Chaitra and others. Lahari Music is the music label of this movie. This song was composed by Hithan Hassan. The lyrics of this song was written by Harshapriya. Preethine Onthara Maaye Hange song was sung by Priya Yadav and Hithan Hassan.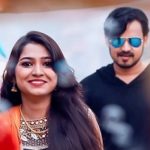 Preethine Onthara Lyrics
Movie: Ondu Sanna Break Na Nantara
Music Label: Lahari Music
Music: Hithan Hassan
Lyrics: Harshapriya
Singers: Priya Yadav, Hithan Hassan
Check out the lyrics here..
Preethin Helodu Kathlal Kaage Hididhange
Kallu Kattkondu Neeralli Eejakk Ilidhange
Preethin Helodu Kathlal Kaage Hididhange
Kallu Kattkondu Neeralli Eejakk Ilidhange
Preethine Onthara Maaye Hange
Yellendaralle Suduvudu Hinge
Preethigiruvude Erade Akshara
Balege Biddare Ragale Saavira
Preethi Anuraaga Suduva Sihi Roga
Aaykond Thinthidda Koli Kaalu Muridhange
Bennu Haththatte Preethi Bethaalana Hange
Heart-U Anno Haale Myale Yerrabirri Geechuththe
Huchchu Hididavn Chithra Baredhange
Saavilda Maneyu Irabodu Oorinalli
Preethisilladoru Yaaravre Bhoomiyalli
Bhara Seleyadaaaaa Bali Peetavu
Bare Yeleyuva Vara Shaapavu
Belillada Jailu Idu Doctrillada Ailu Idu
Devraanegu Diyya Idu
Preethine Onthara Maaye Hange Maaye Hange
Yellendaralle Suduvudu Hinge Suduvudu Hinge
Preethigiruvude Erade Akshara
Balege Biddare Ragale Saavira
Preethi Anuraaga Suduva Sihi Roga
Saalalla Januma Preethina Heloke
Naanalla Hanuma Yede Seeli Thoroke
Gruha Gathigaleeee Kai Kottare
Gruhachaarake Love Baththade
Preethi Jothe Alu Free Ide
Ee Maayeya Sihi Modige
Paramathmanu Sothaagide
Preethine Onthara Maaye Hange Maaye Hange
Yellendaralle Suduvudu Hinge Suduvudu Hinge
Preethigiruvude Erade Akshara
Balege Biddare Ragale Saavira
Comments
comments