August 20, 2020
Kadubige Thuppa Haakidenappa Song Lyrics | Ganesha Chaturthi Kannada Songs
Kadubige Thuppa Haakidenappa Song Lyrics | Ganesha Chaturthi Kannada Songs: Kadubige Thuppa Haakidenappa is a famous Kannada devotional song about Lord Ganesha sung by playback singer Latha Hamsalekha.
Lord Ganesha also known as Ganapati, Vinayaka, and other names is one of the most worshiped deities in the Hindu religion. He is the song of Lord Shiva and Goddess Parvati. He is the elder brother of Lord Subramanya.
Lord Ganapathi is widely revered as the remover of obstacles, the patron of arts and sciences and the deva of intellect and wisdom. Before beginning any auspicious work, Lord Vinayaka is worshiped as He is the God who removes any obstacles in the path.
Ganesha Chaturthi is the festival celebrated to honour Lord Vinayaka. This festival will be celebrated every year in the month of late August or early September. Ganesha festival begins with people bringing in idols of Ganesha, symbolising the god's visit. The festival culminates on the day of Ananta Chaturdashi, when the idols are immersed in the most convenient body of water.
Kadubige Thuppa Haakidenappa Song Lyrics were penned by famous Kannada music director Hamsalekha. This song composed by Hamsalekha was rendered by singer Latha Hamsalekha.
Listen to this Ganapathi devotional song to get the blessings of Lord Vinayaka. We wish you all a Happy Ganesha Chaturthi 2020.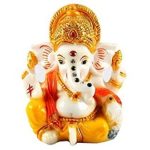 Song: Kadubige Thuppa Haakidenappa
Album: Ganapathi Sankashta Stuthi
Music: Hamsalekha
Lyrics: Hamsalekha
Singer: Latha Hamsalekha
Music Label: Aananda Audio Video
Check out the lyrics here..
Kadubige Thuppa Haakidenappa
Sweekarisappa Oo Benakappa
Kadubige Thuppa Haakidenappa
Sweekarisappa Oo Benakappa
Saavira Thappa Manniseyappa
Oogodu Oo Ganapathi Bappa
Oogodu Oo Ganapathi Bappa
Oogodu Nee Ganapathi Bappa
Oogodu Nee Ganapathi Bappa
Kadubige Thuppa Haakidenappa
Sweekarisappa Oo Benakappa
Moodanadalli Dinakara Baruva
Shubhakara Vele
Parimala Chelluva Mallige Sampige
Hoogala Maale
Thandiruve Ninagaagi
Namisiruve Thalebaagi Baarappa
Baagiligappa Thoranavappa
Nee Baralemba Kaaranavappa
Baagiligappa Thoranavappa
Nee Baralemba Kaaranavappa
Kandhare Kappa Kaanikeyappa
Oogodu Oo Ganapathi Bappa
Oogodu Oo Ganapathi Bappa
Oogodu Nee Ganapathi Bappa
Oogodu Nee Ganapathi Bappa
Kadubige Thuppa Haakidenappa
Sweekarisappa Oo Benakappa
Hunnime Kaledu Moorane
Divasa Kaayuvevappa
Thingalu Thingalu
Sankashta Sthuti Maduvevappa
Ganapana Naama Hathtu
Unuvevu Onde Hoththu Baarappa
Angai Dappa Holigeyappa
Holige Kappa Haalideyappa
Angai Dappa Holigeyappa
Holige Kappa Haalideyappa
Saavira Thappa Manniseyappa
Oogodu Oo Ganapathi Bappa
Oogodu Oo Ganapathi Bappa
Oogodu Nee Ganapathi Bappa
Oogodu Nee Ganapathi Bappa
Kadubige Thuppa Haakidenappa
Sweekarisappa Oo Benakappa
Maneya Makkalu Odalu
Bareyalu Manasu Kodappa
Manadali Shanthi Sukhavu
Nelesalu Preethi Kodappa
Dhana …. Bedevappa
Mana Muda Maadu Appa
Nammappa
Kadubige Thuppa Haakidenappa
Sweekarisappa Oo Benakappa
Saavira Thappa Manniseyappa
Oogodu Oo Ganapathi Bappa
Oogodu Oo Ganapathi Bappa
Oogodu Nee Ganapathi Bappa
Oogodu Nee Ganapathi Bappa
Kadubige Thuppa Haakidenappa
Sweekarisappa Oo Benakappa
Ganesha Devotional Songs
1. Ekadantaya Vakratundaya
2. Sharanu Sharanayya Sharanu Benaka
3. Gajamukhane Ganapathiye Ninage Vandane
4. Jai Ganesha Ninage Vandane
5. Kadubige Thuppa Haakidenappa
6. Ganapathi Ganapathi
7. Heluve Kathe Heluve
8. Belagaithu Yelu Hey Muddu Benaka
9. Hejje Mele Hejje Ittu Ganapa Bandane
10. Ganesha Astottara Shatanamavali
Comments
comments