October 18, 2017
Bandeya Baalina Belakaagi Lyrics
Bandeya Baalina Belakaagi Lyrics: Bandeya Baalina Belakaagi is a song from the 1981 Kannada film Avala Hejje, directed by H.R. Bhargava. This film is loosely based on 1978 Bollywood film Trishna. Avala Hejje features Vishnuvardhan, Lakshmi, Ambarish, Dwarakish, Sundar Krishna Urs, Seetharama and others. Sangeetha is the music label of this movie. This song was composed by Rajan-Nagendra with lyrics penned by Chi. Udaya Shankar. Bandeya Baalina Belakaagi was rendered by S. P. Balasubrahmanyam.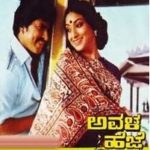 Bandeya Baalina Lyrics
Movie: Avala Hejje [1981]
Music Label: Sangeetha
Music: Rajan-Nagendra
Lyrics: Chi. Udaya Shankar
Singer: S. P. Balasubrahmanyam
Check out the lyrics here..
Bandeya Baalina Belakaagi
Bandeya Premada Siriyaagi
Nanagaagi Nanna Jotheyaagi
Nanagaagi Nanna Jotheyaagi
Snehada Maathinda
Preethiya Jeninda
Thumbutha Anandhaa
Bandeya Baalina Belakaagi
Bandeya Premada Siriyaagi
Nanagaagi Nanna Jotheyaagi
Nanagaagi Nanna Jotheyaagi
Thaavare Moggondu Sooryana Kandaaga
Arali Naguva Haage
Ee Mogaveko Kaane Hoovaayitheega
Katthalu Ellellu Mutthalu Bhayadhalli
Hoovu Baaduthiralu
Ee Ninna Kanna Kaanthi
Hosa Jeeva Thandhithu
Jane Nudigalo Veene Svaragalo
Kanenu Preyasi Naanu
Kanenu Preyasi Naanu
Bandeya Baalina Belakaagi
Bandeya Premada Siriyaagi
Nanagaagi Nanna Jotheyaagi
Nanagaagi Nanna Jotheyaagi
Snehada Maathinda
Preethiya Jeninda
Thumbutha Anandhaa
Bandeya Baalina Belakaagi
Bandeya Premada Siriyaagi
Nanagaagi Nanna Jotheyaagi
Nanagaagi Nanna Jotheyaagi
Aasare Yenendu Kanaade Naanondu
Andu Odi Bande
Dhevara Haage Ninna Naanalli Kande
Heluvaararilla Keluvaararilla
Onti Baalinalli
Dhevatheyanthe Neenu Nannalli Bande
Hrudhaya Aralithu Manasu Kuniyithu
Ee Savi Maathanu Keli
Ee Savi Maathanu Keli
Bandeya Baalina Belakaagi
Bandeya Premada Siriyaagi
Nanagaagi Nanna Jotheyaagi
Nanagaagi Nanna Jotheyaagi
Snehada Maathinda
Preethiya Jeninda
Thumbutha Anandhaa
Bandeya Baalina Belakaagi
Bandeya Premada Siriyaagi
Nanagaagi Nanna Jotheyaagi
Nanagaagi Nanna Jotheyaagi
Lalala Lalala
Avala Hejje Songs
Bandeya Baalina
Neralanu Kaanada
Aakasha Neeraagali
Devara Aata
Save
Save
Comments
comments