February 24, 2023
Maleyu Banthu Nodi Lyrics
Maleyu Banthu Nodi Lyrics: Maleyu Banthu Nodi is a song from the 2006 Kannada movie 'Saavira Mettilu', written by P. V. Nanjaraja Urs and directed by Puttanna Kanagal, who passed away while the movie was still in progresss. Later the movie was completed under the direction of D. B. Basave Gowda, and K. S. L Swamy. This film was produced by D. B. Basave Gowda under the banner Padmamba Productions.
Saavira Mettilu Kannada movie features Jayanthi, Kalyankumar, K. S. Ashwath, Pandaribai, Ambarish, Vajramuni, S. P. Balasubrahmanyam, Master Hirannayya, S. Shivaram, Mukyamanthri Chandru, Doddanna, G K Govind Rao, Dikki Madhavarao, Dayanand, M. S. Umesh, M. N. Lakshmidevi, B. Jayamma, Vaishali Kasaravalli, Ashalatha, B. V. Radha, Girija Lokesh, Hema Choudhary, Padmavasanthi, M. Jayashree, Anu Prabhakar, Sundar Raj, Pranava Murthy, D. B. Basave Gowda, Ramakrishna, M. D. Kaushik, Goa Datthu, T. N. Choudappa, Puttaraju, Balaji Manohar, Jr Narasimharaju, Balakrishna, Govindaraj, Niranjan, Mallikarjun, Anantharam Maccheri, and others.
Maleyu Banthu Nodi song lyrics were written by A. R. Mithra and composed by Praveen Gokhindi. This song was sung by singer Sangeetha Katti.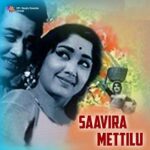 Maleyu Banthu Nodi Lyrics
Movie: Savira Mettilu [2006]
Music: Praveen Gokhindi
Singer: Sangeetha Katti
Lyrics: A. R. Mithra
Music Label: Saregama
Check out 'Maleyu Banthu Nodi Lyrics' here..
Shree Raam Jai Raam Jai Jai Raam |5|
Maleyu Banthu Nodi
Seveya Maleyu Banthu Nodi
Maleyu Banthu Nodi
Seveya Maleyu Banthu Nodi
Maanava Seveya Maadhava Seveyu |3|
Yenuva Maleyu Banthu Nodi
Seveya Maleyu Banthu Nodi
Maleyu Banthu Nodi
Seveya Maleyu Banthu Nodi
Badava Baggara Jatujappathina
Jadatheya Rogakke Soojiya Chuchchuththa
Badava Baggara Jatujappathina
Jadatheya Rogakke Soojiya Chuchchuththa
Sadagara Tharuvantha Nishkaama Seveye
Sadagara Tharuvantha Nishkaama Seveye
Bidada Bhakuthi Raamage Priyavaada
Bidada Bhakuthi Raamage Priyavaada
Maleyu Banthu Nodi
Seveya Maleyu Banthu Nodi
Maleyu Banthu Nodi
Seveya Maleyu Banthu Nodi
Shree Raam Jai Raam Jai Jai Raam |5|
Hennu Makkala Shoshanegalanella
Banna Bannadi Varnisi Phalavenu?
Aa Aa Aa Aa Aa
Hennu Makkala Shoshanegalanella
Banna Bannadi Varnisi Phalavenu
Kaanade Aluvavara Kanneeranoresuva
Kaanade Aluvavara Kanneeranoresuva
Suguna Seve Shyamage Priyavaada
Suguna Seve Shyamage
Maleyu Banthu Nodi
Seveya Maleyu Banthu Nodi
Maleyu Banthu Nodi
Seveya Maleyu Banthu Nodi
Shree Raam Jai Raam Jai Jai Raam |5|
Uriyuva Shreegandha Hariyuva Nadigalu
Moreyuva Thangaali Suriva Maleyella
Uriyuva Shreegandha Hariyuva Nadigalu
Moreyuva Thangaali Suriva Maleyella
Pararige Hitha Koduva Upakaara Yendare
Pararige Hitha Koduva Upakaara Yendare
Devara Seve Allade Maththenu
Devara Seve Allade Maththenu
Maleyu Banthu Nodi
Seveya Maleyu Banthu Nodi
Maleyu Banthu Nodi
Seveya Maleyu Banthu Nodi
Maanava Seveye Maadhava Seveyu |3|
Yenuva Maleyu Banthu Nodi
Seveya Maleyu Banthu Nodi
Shree Raam Jai Raam Jai Jai Raam |5|
Savira Mettilu [2006] Kannada Songs List
Song: Cinema Banthu Nodi
Music: Praveen Gokhindi
Singer: S. P. Balasubrahmanyam
Lyrics: K. S. L. Swamy
Song: Maleyu Banthu Nodi [Sri Ram Jayaram]
Music: Praveen Gokhindi
Singer: Sangeetha Katti
Lyrics: A. R. Mithra
Song: Gandubheeri Naananthe
Music: Vijaya Bhaskar
Singer: L. R. Eshwari
Lyrics: P. V. Nanjaraj Urs
Song: Kaiya Needide Neenu Andu
Music: Vijaya Bhaskar
Singer: P. B. Srinivas
Lyrics: P. V. Nanjaraj Urs
Song: Nammoora Bettada Tholinalli
Music: Vijaya Bhaskar
Singers: P. B. Srinivas, P. Susheela
Lyrics: P. V. Nanjaraj Urs
Song: Saavira Mettilu Hatthi Banni
Music: Vijaya Bhaskar
Singers: P. B. Srinivas, S. Janaki
Lyrics: P. V. Nanjaraj Urs, Kanagal Prabhakar Shastry
Comments
comments