July 3, 2017
Muthinantha Maathondu Gotthenamma Lyrics | Bahaddur Gandu | Rajkumar
Muthinantha Maathondu Gotthenamma Lyrics | Bahaddur Gandu | Rajkumar: Muthinantha Maathondu Gotthenamma [mutthinantha maathondu] is a super hit song from the 1976 Kannada film Bahaddur Gandu, directed by A. V. Sheshagiri Rao.
Bahaddur Gandu features Rajkumar, Aarathi, Jayanthi, Balakrishna, Vajramuni, Dwarakish, Rajashankar, Thoogudeepa Srinivas, Rajanand, Joker Shyam, Shani Mahadevappa, Venkataraju, Kunigal Ramnath, B. Jaya, and others. This film was inspired from 1952 Hindi film Aan starring Dilip Kumar.
Saregama is the music label of this movie. This song was composed by M. Ranga Rao with lyrics penned by Chi. Udaya Shankar. Muthinantha Mathondu was rendered by Dr. Rajkumar.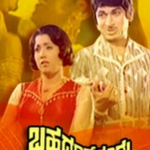 Muthinantha Maathondu Lyrics

Album: Bahaddur Gandu [1976] 
Music Label: Saregama 
Music: M. Ranga Rao  
Lyrics: Chi. Udaya Shankar
Singer: Rajkumar
Check out the lyrics here..
Haaduva Daniyella
Shruthi Serabeku
Noduva Notadali
Hita Kaanabeku
Aaduva Maathinali
Preethi Irabeku
Muthinantha Maathondu Gotthenamma
Ninage Gotthenamma
Naavu Kaalakke Takkanthe Nadeyabeku
Yendu Taalakke Takkanthe Kuniyabeku
Muthinantha Maathondu Gotthenamma
Ninage Gotthenamma
Naavu Kaalakke Takkanthe Nadeyabeku
Yendu Taalakke Takkanthe Kuniyabeku
Siritanavendu Shashvathavalla
Bada Janarendu Praanigalalla
Devaraata Ballavarilla
Baalina Marma Arithavarilla
Ninne Thanaka Haayaagi Suppatthige Papa
Indu Manne Gathiyaythu Ee Mayyige
Ninne Thanaka Haayaagi Suppatthige
Indu Manne Gathiyaythu Ee Mayyige
Yendu Aalaga Ballavane Arasaaguva
Olle Arasaaaguva
Muthinantha Maathondu Gotthenamma
Ninage Gotthenamma
Naavu Kaalakke Takkanthe Nadeyabeku
Yendu Taalakke Takkanthe Kuniyabeku
Kappane Moda Karagale Beku
Aagasadinda Iliyalebeku
Kappane Moda Karagale Beku
Aagasadinda Iliyalebeku
Kote Katti Meredorella Yenaadaru
Meese Thiruvi Kunidorella Mannaadaru
Innu Neeyaavalekka Helu Sukumaariye
Ayyo Hemmariye
Shrimanthikeyu Mereyalu Alla
Rajakumari Devatheyalla
Hasivu Nidde Kopa Taapa Ninagu Ide
Ninnathe Rosha Vesha Namagu Ide
Ee Nijavannu Arithaaga Hennaguve
Illa Manthinnuve
Muthinantha Maathondu Gotthenamma
Ninage Gotthenamma
Naavu Kaalakke Takkanthe Nadeyabeku
Yendu Taalakke Takkanthe Kuniyabeku
Bahaddur Gandu [1976] Kannada Movie Songs List
Song: Maanavanaaguveya
Lyrics: Chi. Udaya Shankar
Singer: Dr. Rajkumar
Song: Muthinantha Mathondu
Lyrics: Chi. Udaya Shankar
Singer: Dr. Rajkumar
Song: Hey Ninagagiye
Lyrics: Chi. Udaya Shankar
Singer: Dr. Rajkumar
Song: Gandu Endare Gandu
Lyrics: Chi. Udaya Shankar
Singer: S. P. Balasubrahmanyam
Song: Alle Nillu
Lyrics: Chi. Udaya Shankar
Singers: P. B. Sreenivas, S. Janaki
Save
Save
Comments
comments