July 2, 2018
Nade Nade Nade Lyrics | Hrudaya Sangama
Nade Nade Nade Lyrics | Hrudaya Sangama: Nade Nade Nade Nade Nade Manave is a song from the 1972 Kannada movie Hrudaya Sangama, directed by Rashi Brothers and written by H. N. Muddukrishna. The film was produced by Muddukrishna H N, Jayasimha H N, Maruthi H N under the banner MJM Productions.
Hrudaya Sangama features Rajkumar, Bharathi, Balakrishna, K. S. Ashwath, Loknath, Pandari Bai, Jayaram, Sampath, Shivaram, Ganapathi Bhat, Shakti Prasad, Comedian Guggu, Mahadevappa, C. H. Lokanath, H. G. Somashekar, Dr Sridhar, Thipatur Siddaramaiah, and others.
Saregama is the music label of this movie. This song was composed by Vijaya Bhaskar with lyrics penned by Geethapriya. Nade Nade Nade Nade Nade Manave song was sung by famous playback singer P. B. Sreenivas.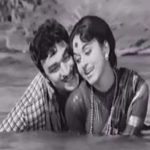 Nade Nade Nade Lyrics
Movie: Hrudaya Sangama [1972]
Music Label: Saregama
Music: Vijaya Bhaskar
lyrics: Geethapriya
Singers: P. B. Sreenivas
Check out the lyrics here..
Nade Nade Nade Nade Nade Manave
Nava Jeevanada Kadege
Nammaya Jotheyali Nade Jagave
Nava Saadhaneya Kadege
Nade Nade Nade Nade Nade Manave
Nava Jeevanada Kadege
Aa Dina Kande Bere Prapancha
Aa Dina Kande Bere Prapancha
Ee Dina Prema Prapancha
Ellaru Jotheyali Baaluthaliddare
Mullu Hoovina Mancha
Aha Mullu Hoovina Mancha
Nade Nade Nade Nade Nade Manave
Nava Jeevanada Kadege
Jeevanavanne Hudukutha Andu
Jeevanavanne Hudukutha Andu
Doora Doorake Nadede
Aduve Nannanu Hudukalu Indu
Nija Jeevana Naa Padede
Oho Nija Jeevana Naa Padede
Nade Nade Nade Nade Nade Manave
Nava Jeevanada Kadege
Sukhaveniddaroo Panjaradalli
Sukhaveniddaroo Panjaradalli
Allina Baalu Baalalla Kanasina
Lokava Nanasali Kandare
Aagale Sundara Jagavella
Aha Aagale Sundara Jagavella
Hrudaya Sangama Songs Lyrics
Nee Thanda Kaanike
Nade Nade Nade
Yeno Kurudu Bhavane
Yaaru Nee Yaaru
Gandhada Nerigyole
Nee Thanda Kaanike [S. Janaki]
Comments
comments