April 11, 2018
Nee Baradiru Kambaniye Lyrics
Nee Baradiru Kambaniye Lyrics: Nee Baradiru Kambaniye is a song from an upcoming 2017 Kannada movie O Premave, directed by Manoj. The film is produced by C. T. Chanchala Kumari under the banner M K Films. O Premave features Manoj Kumar H K, Nikki Galrani, Apoorva, Huchcha Venkat, Saadhu Kokila, Ranghayana Raghu, Prashanth Siddi and others. Aananda Audio is the music label of this movie. This song was composed by Anand Rajavikram – Rahul Dev with lyrics penned by Kaviraj. Nee Baradiru Kambaniye song was rendered by Vijay Prakash.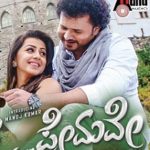 Nee Baradiru Kambaniye
Movie: O Premave [2017]
Music Label: Aananda Audio
Music: Anand Rajavikram – Rahul Dev
Lyrics: Kaviraj
Singer: Tippu
Check out the lyrics here..
Nee Baradiru Kambaniye
Ee Kannalli Pade Pade
Nee Iruveyaa Oo Manave
Nee Avala Thusu Neneyade
Mana Mohaka Kshanagalu
Kai Jaarida Kanasina Bhaagavaadave
Sundara Dinagalu Innendigu
Badukali Marali Baarade
Nee Baradiru Kambaniye
Ee Kannalli Pade Pade
Nee Iruveyaa Oo Manave
Nee Avala Thusu Neneyade
Kai Mugive Naa Ninage Ontiyaagi
Badukalu Thusu Kalisu
Neenirada Baalina Badalu
Aa Maranave Lesu
Ondu Sala Bandu Bidu Nanna
Kanna Edurige Are Ghalige
Illadire Kondu Bidu Thumbu
Punya Baruvudu Ninage
Mana Mohaka Kshanagalu
Kai Jaarida Kanasina Bhaagavaadave
Sundara Dinagalu Innendigu
Badukali Marali Baarade
Chandirana Thambelaku Benkiyanthe
Suduthide Hrudayavanu
Ee Bageya Vedane Sahisi
Naa Uliyuvenenu
Yaava Thara Nillisali Saalu
Saalu Nenapina Meravanige
Needuveya Nee Nange
Yellavannu Maresuva Aravalike
Mana Mohaka Kshanagalu
Kai Jaarida Kanasina Bhaagavaadave
Sundara Dinagalu Innendigu
Badukali Marali Baarade
Nee Baradiru Kambaniye
Ee Kannalli Pade Pade
Nee Iruveyaa Oo Manave
Nee Avala Thusu Neneyade
Mana Mohaka Kshanagalu
Kai Jaarida Kanasina Bhaagavaadave
Sundara Dinagalu Innendigu
Badukali Marali Baarade
Comments
comments