August 21, 2018
Nee Thanda Preethi Song Lyrics
Nee Thanda Preethi Song Lyrics: Nee Thanda Preethi is a Kannada song from the 1990 movie Panchama Veda [Panchamaveda], written and directed by P. H. Vishwanath. The film was produced by D Rajkumar, P R Prabhakar, Smt Sarojamma under the banner Sri Sathyasai Combines.
Panchama Veda features Ramesh Aravind, Sudharani, Ramakrishna, Geetha, Kashi, Krishne Gowda, Mallikarjunaiah, Buddivantha Nayari, Ramachandra Hulimavu, Vijaykumar Jitthuri, Neernalli Raju, Nagendra Shaw, Nagesh R, Soori, Ramesh Babu, Chayapathi, Ithal, Robin, Sujatha, Geethanjali, Sundaramma, Baby Aarathi, Pushpa, Bhagirathiand others.
Tharangini is the music label of this movie. This song was composed by Sangeetha Raja with lyrics penned by M. N. Vyasa Rao. Nee Thanda Preethi song was rendered by S. P. Balasubrahmanyam and K. S. Chithra.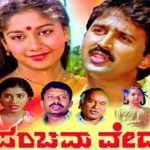 Nee Thanda Preethi Lyrics
Movie: Panchama Veda [1990]
Music Label: Tharangini
Music: Sangeetha Raja
Lyrics: M. N. Vyasa Rao
Singers: S. P. Balasubrahmanyam, K. S. Chithra
Check out the lyrics here..
Nee Thanda Preethi Belakagide Belakagide
Ee Baala Daari Teravaagide
Manadaase Nooride Kai Chaachi Bedide
Manadaase Nooride Kai Chaachi Bedide
Ninagaagi Naa Kaayuve Beyuve Noyuve
Nee Thanda Preethi Belakagide Belakagide
Hrudayadali Bandisi Neleyondu Needide
Hagalirulu Sandisi Malavanne Uudide
Aralitu Jeeva Hoovagutha Manasothu Naa Bande
Ullasa Nee Thade Santhosha Nee Thande
Nee Thanda Preethi Belakagide Belakagide
Biru Bayala Baalige Thamperedu Beesihe
Sudu Benki Daalige Edurindu Naanihe
Sahaneye Eega Mai Thumbide
Nenapagi Neenu Ninthu
Andeke Nee Bande Indeke Naa Nonde
Nee Thanda Preethi Belakagide Belakagide
Ee Baala Daari Teravagide
Manadase Nooride Kai Chaachi Bedide
Manadase Nooride Kai Chaachi Bedide
Ninagagi Naa Kaayuve Beyuve Noyuve
Panchama Veda Songs
Aase Holeye Ukki Haridaithe
Aase Holeye Batthi Hogaithe
Nee Thanda Preethi
Comments
comments