April 24, 2018
Onde Kshanadalli Parichayavaithu Lyrics
Onde Kshanadalli Parichayavaithu Lyrics: Onde Kshanadalli Parichayavaithu is a song from the 1991 Kannada movie Navathare, written and directed by N. R. Nanjunde Gowda. The film was produced by Suresh Kumar Sharma under he banner Radhakrishna Productions.
Navathare features Kumar Bangarappa, Anusha, Srinath, C R Simha, Mukyamanthri Chandru, Lohithashwa, Shani Mahadevappa, Umesh, Bangalore Nagesh, Krishne Gowda, Thipatur Siddaramaiah, Kalyani Premkumar, Navaneetha, Shobha, Sheela, Sarojamma, Seema, Parvathi, cricketer G R Vishwanath in a guest role and others.
Lahari Music is the music label of this movie. This song was written and compose by Hamsalekha. Onde Kshanadalli Parichayavaithu song was rendered by singers S. P. Balasubrahmanyam and Latha Hamsalekha.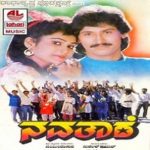 Onde Kshanadalli Parichayavaithu Lyrics
Movie: Navathare [1991]
Music Label: Lahari Music
Music: Hamsalekha
Lyrics: Hamsalekha
Singers: S. P. Balasubrahmanyam, Latha Hamsalekha
Check out the lyrics here..
Onde Kshanadalli Parichayavaaithu
Olle Tharadalli Gelethanavaaithu
Onde Kshanadalli Parichayavaaithu
Olle Tharadalli Gelethanavaaithu
Ninna Maathu Sarala Vinaya Virala
Adake Mecchide Hoi…
Neene Nanaginnu Friendu
Sihi Kahi Hanchikolalu
Naane Ninaginnu Friendu
Onde Thingalalli Saligeyu Banthu
Onde Ruchiyalli Abhiruchi Banthu
Onde Thingalalli Saligeyu Banthu
Onde Ruchiyalli Abhiruchi Banthu
Neenu Olle Huduga Belli Kadaga
Anta Meccihde Hoi…
Neene Nanaginnu Friendu
Sihi Kahi Hancikolalu
Naane Ninaginnu Friendu
Battegalalli Ninagen Ishta
Seere Ishta Odod Kashta
Bannagalalli Yaavudishta
Kunkuma Ishta Tumba Ishta
Kaasagalavu Kashta
Tusu Chikkadu Nanagishta
O Gelati O Gelati Idu Fashion Yuga
Are Nagana Sure Magna Anukarane Yuga
Namma Reethi Neethi Mareyada Gunava
Tumba Mecchide Hoi…
Neene Nanaginnu Friendu
Ishta Kashta Helikollalu
Naane Ninaginnu Friendu
Onde Kshanadalli Parichayavaaithu
Olle Tharadalli Geletanavaaithu
Bhojanadalli Ninagen Ishta
Mudde Ishta Nungod Kashta
Navarasadalli Yaavudishta
Haasyavu Ishta Tumba Ishta
Naataka Balu Kashta
Tusu Sahajate Nanagishta
O Geleya O Geleya Idu Bogale Yuga
Bari Tollu Bari Pollu Idu Show Off Yuga
Ninna Maathu Kaara Tumba Nera
Aadake Mecchide Hoi…
Neene Nanaginnu Friendu
Sari Thappu Tiddikollalu
Naane Ninaginnu Friendu
Onde Kshanadalli Parichayavaaithu
Olle Tharadalli Geletanavaaithu
Jeevanadalli Ninagen Ishta
Ota Ishta Maduve Kashta
Spoorthige Ninage Yaaru Ishta
Pt Ushaalu Tumba Ishta
Saadhane Balu Kashta
Haagaagalu Nanagishta
O Gelati O Gelati Idu Rocket Yuga
Bari Duduku Bari Siduku Jana Edavo Yuga
Ninna Baleya Kaige Jayada Thoduge
Sigali Enuve Hoi…
Neene Nanaginnu Friendu
Solu Geluvu Hancikollalu
Naane Ninaginnu Friendu
Onde Kshanadalli Parichayavaaithu
Olle Tharadalli Geletanavaaithu
Navathare Kannada Movie Songs
Moodanadaramane Bagila Theredanu
Onde Kshanadalli Parichayavaithu
Loka Loka Nododu Heegene
Sneha Ondu Thyagavo
O Majanu Ninage Sharanu
O Majanu Ninage Sharanu [Sad]
Romeo Romeo Banda Roadige Romeo
Neerinanthe Nirmala
Neerinanthe Nirmala [Duet]
Comments
comments