September 19, 2017
Preethiya Kare Lyrics
Preethiya Kare Lyrics: Preethiya Kare is a song from an upcoming 2017 Kannada movie Anveshi, directed by Vemagal Jagannatha Rao. Anveshi features Ramya Barne, Thilak, Anu Aggarwal, Raghu Bhat, Shraddha Sharma and others. Zee Music Co. is the music label of this movie. This song was composed by Hemanth Kumar with lyrics written by Vemagal Jagannatha Rao. Preethiya Kare was rendered by Ramesh Krishna and Shamitha Malnad.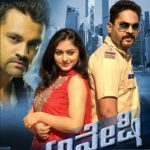 Preethiya Kare Lyrics
Movie: Anveshi [2017]
Music: Hemanth Kumar
Music Label: Zee Music Co.
Lyrics: Vemagal Jagannatharao
Singers: Ramesh Krishna, Shamitha Malnad
Check out the lyrics here..
Preethiya Kare Karedide
Manasina There Saridide
Ninna Jotheye Modala Premageethe Haado Manadaase
Oppiko Nanna Hrudayada Bhashe
Oppibidu Nanna Gelayane Neenu
Mechchiko Nanna Manada Aase
Mechchibidu Nanna Gelatiye Neenu
Indu Karedide Nammaya Preethi
Andu Nammanu Kadida Reethi
Doora Theerada Naduveyu Namma Ee Payana
Bande Baruthade Doniyu Haththikollona
Sada Sada Ninna Nenapu Nannali
Preethiya Kare Karedide Manasina There Saridide
Naalina Badukina Munnudiyu
Baalu Belaguva Hitha Nudiyu
Bareyabekide Namagaagi
Nanna Ninna Olavina Bandha
Anudina Aralali
Dinavidi Khushiyali
Geluvina Hoomale
Preethiya Kare Karedide
Manasina There Saridide
Kannalle Kanasu Kaadide
Taa Nana Taa Nana Tana Tanana
Kaanuva Kadalalli Muthsanjeyu
Mukhake Arishina Hachchiralu
Nadeyabekide Namagaage
Nanna Ninna Milanada Bandha
Anudina Anudina Aralali Aralali
Dinavidi Khushiyali Geluvina Hoomale
Preethiya Kare Karedide
Manasina There Saridide
Ninna Jotheye Modala Premageethe Haado Manadaase
Anveshi Songs
Toogi Toogi
Kamana Billige Bannava
Preethiya Kare
Ra Ra Gopal
Ole Ole
Ee Mohaka
Save
Comments
comments