April 27, 2018
Raja Muddu Raja Lyrics
Raja Muddu Raja Lyrics: Raja Muddu Raja is a song from the 1974 super hit Kannada movie Sampathige Savaal, directed by A. V. Seshagiri Rao. The film was produced by A. N. Murthy under the banner Padmashree Enterprises. The film was based on a play of the same name written by P. B. Dhuttaragi. Sampathige Savaal features Rajkumar, Manjula, Balakrishna, Vajramuni, M. V. Rajamma, C. K. Kalavathi, Jayamma, Suryakumari, Jaya, Ramachandra Shastry and others.
Saregama was the music label of this movie. This song was composed by G. K. Venkatesh with lyrics penned by Chi. Udaya Shankar. Raja Muddu Raja song was rendered by singers P. B. Sreenivas and S. Janaki.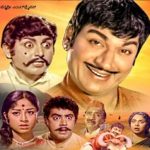 Raja Muddu Raja Lyrics
Movie: Sampathige Savaal [1974]
Music Label: Saregama
Music: G. K. Venkatesh
Lyrics: Chi. Udaya Shankar
Singers: P. B. Sreenivas, S. Janaki
Check out the lyrics here..
Raja Muddu Raja
Nookuvantha Kopa Nannalleke
Sarasada Vele Doora Nilla Beke Kopaveke
Ningaagi Bande Olavanuu Thande
Nanadella Ninde
Raja Muddu Raja
Nookuvantha Kopa Nannalleke
Mudddu Raja
Olidu Banda Nanna Bedendarenu Chenna
Raja Nanna Raja
Olidu Banda Nanna Bedendarenu Chenna Raja
Aasebaaradenu Naanandavillavenu
Manasinnu Kallenu
Raja Beda Raja
Nookuvantha Kopa Nannalleke
Muddu Raja
Hanada Sokkininda Meredaado Ninna Chanda
Balle Naa Balle
Hanada Sokkininda Meredaado Ninna Chanda
Balle..
Benkiyanthe Naanu Thanneerinanthe Neenu
Nee Nanna Jotheyenu
Nille Doora Nille
Gandu Beeriyalla
Naa Hindinanthe Illaa
Nalla Nanna Nallaa..
Gandu Beeriyalla
Naa Hindinanthe Illaa
Nalla..
Thande Maatha Thalli
Naan Odibandenalla
Ninnaane Sullalla
Raja Muddu Raja
Nookuvantha Kopa Nannalleke
Muddu Raja
Nannalenu Moha
Idenu Ninna Sneha
Illa Sari Alla
Namma Oralella Gandu Obbanu Huttilla
Adakaage Bidalaare
Vera Hammeera
Raja Muddu Raja
Nookuvantha Kopa Nannalleke
Preethi Inda Maiyya Balasabeke
Innu Saake
Saake Illa Beke
Saake Illa Beke
Comments
comments