June 30, 2022
Naachike Yeke Song Lyrics
Naachike Yeke Song Lyrics: Naachike Yeke is a song from the 1986 Kannada movie Brahmasthra based on the novel of writer M. S. Anantha Rao, directed by Perala and produced by Smt Lakshmi Vajramuni under the banner Sri Bhavani Shakthi Pictures.
Brahmasthra Kannada film features Ambarish, Lakshmi, Balakrishna, Vajramuni, Mukyamanthri Chandru, Sudheer, N. S. Rao, M. S. Umesh, Kunigal Nagabhushan, Krishne Gowda, Prasad, Prakash, Dr Rudresh, Rajanna, Thriveni, Thara, Shamli, Kokila, Shanthamma, Indushree, Umashree, Govind, Janardhan, Devaraj, Seetharam, R S Prithviraj, Master Sunil, Master Nirmal, Master Anil, Baby Bindu, and others.
Naachike Yeke Song Lyrics were penned by R. N. Jayagopal and the song was composed by music director Sathyam. This song was rendered by playback singers S. P. Balasubrahmanyam and S. Janaki.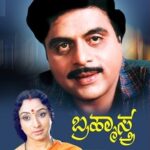 Naachike Yeke Lyrics
Movie: Brahmasthra [1986]
Music: Sathyam
Lyrics: R. N. Jayagopal
Singers: S. P. Balasubrahmanyam, S. Janaki
Music Label: Lahari Music
Check out 'Naachike Yeke Song Lyrics' here
Naachike Yeke
Ee Kamapana Yeke
Naachike Yeke
Ee Nallana Kandu
Kampana Yeke
Kai Thaagalu Indu
Idu Hosadalla Namagintha Shrunagara Rathri
Naachide Bhoomi
Aa Bhananu Kandu
Naachide Kamala
Aa Sooryana Kandu
Sathi Pathi Kandu Kadu Lajje Hosadanthe Endu
Naachike Yeke
Ee Nallana Kandu
Mounada Nota Mayyina Maata Kareya Needithu
Aaseya Hakkiya Rekkeya Bicchutha Mele Haarithu
Hannele Matthe Chaitrava Kandu Chiguri Nakkitho
Nuthana Yavvana Maiyali Ee Dina Aase Tanditho
Naretharu Meese Nareyadu Aase
Naretharu Meese Nareyadu Aase Karedide Eegale
Makkala Aata Mudukara Kaata Malagovaagale
Naachike Yeke Ee Nallana Kandu
Kampana Yeke Kai Thaagalu Indu
Sathi Pathi Kandu
Kadu Lajje Hosadanthe Endu
Naachide Bhoomi
Aa Bhananu Kandu
Thaali Kattalu Kaadiha Maganu Marethe Hoyithe
Thathana Maadalu Kaadihe Magalu Chapala Bandithe
Jeevana Santhe Saavira Chinte Baride Saagithu
Anubhava Tanda Nemmadi Inda Preethi Kelithu
Kelalu Preethi
Illave Reethi
Kelalu Preethi Illave Reethi
Aathura Yekeega
Maadalu Preethi Yaaradu Bheethi
Baare Begane
Naachide Bhoomi
Aa Baananu Kandu
Naachide Kamala
Idu Hosadalla Namagintha Shrunagara Raathri
Naachike Yeke
Brahmasthra [1986] Kannada Movie Songs List
Kannadammana Devaalaya Lyrics
Music: Sathyam
Lyrics: R. N. Jayagopal
Singers: S. P. Balasubrahmanyam, S. Janaki
Nillu Nanna Jeevave Lyrics
Music: Sathyam
Lyrics: R. N. Jayagopal
Singers: S. P. Balasubrahmanyam, S. Janaki
Naachike Yaake Lyrics
Music: Sathyam
Lyrics: R. N. Jayagopal
Singers: S. P. Balasubrahmanyam, S. Janaki
Brahmasthra Brahmasthra Lyrics
Music: Sathyam
Lyrics: R. N. Jayagopal
Singer: S. P. Balasubrahmanyam
Comments
comments