July 14, 2023
Saddirada Pasurudeya Malenada Banagalali Lyrics
Saddirada Pasurudeya Malenada Banagalali Lyrics: Saddirada Pasurudeya Malenada Banagalali is a Kannada poem written by one of the greatest Kannada poet and Gnyanapeeta award winner Kuvempu. This poem was made as a song from various artists.
The poem portrays a picturesque scene in the quiet countryside of Malendau region. It describes a desire for a peaceful dwelling amidst the serene forests and calls for the melodies of birds like sparrows and cuckoos to fill the air. The poet wishes for the sound of cattle grazing to harmonize with the shepherd's flute in the nearby pasture. The celebrations of Kannada culture, represented by festive occasions and classical music, are described as a source of daily joy.
The mention of Bandigala hills indicates the arrival of a dear friend who appreciates the arts and becomes a companion in the poet's festivities. The poet expresses a desire for this friend to accompany them in both joyful and sorrowful times, embodying the essence of Lord Krishna, the divine cowherd.
Towards the end, the poet metaphorically talks about transcending worldly desires and finding spiritual realms within. The hope is to live in a heavenly state while on earth and to find peace even in the depths of hell.
In summary, the poem celebrates the beauty of nature, the joy of cultural celebrations, and the longing for a companion who understands and shares the poet's passion for art and spirituality.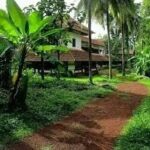 Saddirada Pasurudeya Malenada Banagalali Lyrics
Written by: Kuvempu
Language: Kannada
Music by: Various
Singers: Various
Genre: Bhavageethe
Check out 'Saddirada Pasurudeya Malenada Banagalali Lyrics' here..
Saddirada Pasurudeya Malenada Banagalali
Moreva Toreyedeyali Gudisalondu Irali
Alli Gili Goravanka Kogilegalincharavu
Kaleyutaleyalayagiteeli Barutirali
Alli Bali Pasaleyalida Danagalanba Emba
Daniyu Dana Kayuvana Kolalodane Barali
Alli Sirigannadada Kabbagala Habbagalu
Dina Dinavu Saviyutavikkitiralenage
Bandaladi Haridaru Buviyalli Jarutih
Rasikanaagihanoobba Geleyaniralenage
Baigage Nammoodane Galapiyaladdaadde
Gopalanagiruva Timmanneranagirali
Mele Baalanu Bittu Naanalidu Mareyage
Nannaase Enendu Ellararitiraligale
Saggavivanonagonda Iralu Saggave Irali
Narakavivanonagonda Iralu Narakave Irali
Comments
comments