April 2, 2018
Snehakke Onde Maathu Song Lyrics
Snehakke Onde Maathu Song Lyrics: Snehakke Onde Maathu is a Song from the 1983 Kannada movie Thirugu Baana [Thirugubaana], directed by K. S. R. Dass and screenplay by H V Subba Rao. The film was produced by S Sangram Singh and S Jayaraj Singh under the banner Singh Brothers. Thirugu Baana features Ambarish, Aarathi, Hema Choudary, Jayamala, Vajramuni, Dinesh, Rajanand, Master Arjun, B Hanumanthachar, K V Manjaiah, Lakshman, Indira, Mallika, Lalithamma, Shanthamma, Shantha, Hema, Sindhu, Shakthi and others.
K. S. R. Das the director of this movie was born on 1936 in Venkatagiri, Nellore, Andhra Pradesh state. He was a Film Editor, screen Writer and Director. He made his directorial debut with the Telugu film Loguttu Perumallakeruka starring Sobhan Babu and Rajasri. He made movie in Telugu, Kannada and Tamil with stars like N. T. Rama Rao, Krishna, Sobhan Babu, Chiranjeevi, Rajinikanth , Vishnuvardhan, Ambareesh and others. some of his notable works includes Mosagallaku Mosagadu, Billaa Ranga, Puli Bebbuli, Sahodaral Savaal, Khaidi etc..
This film was remake of the 1974 Hindi film Benaam. Sangeetha music was the music label of this movie. This song was composed by Sathyam with lyrics penned by R. N. Jayagopal. Snehakke Onde Maathu was rendered by real life brother and sister S. P. Balasubrahmanyam and S. P. Shailaja.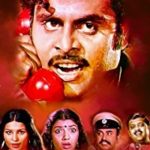 Snehakke Onde Maathu Lyrics
Movie: Thirugu Baana [1983]
Music: Sathyam
Lyrics: R. N. Jayagopal
Singers: S. P. Balasubrahmanyam, S. P. Shailaja
Music Label: Sangeetha
Check out the lyrics here..
Snehakke Onde Maathu Hrudayagalu Aado Maathu
Ee Mouna Innu Ethake Seruvaa Aaduvaa Haaduvaa
Ee Sanje Hoththalli Nannalli Ninnalli Mathella Kannalli
Snehakke Onde Maathu Hrudayagalu Aado Maathu
Ee Mouna Innu Ethake Seruvaa Aaduvaa Haaduvaa
Manathaniyalu Sangeetha Beku Jothe Kuniyalu Sangaathi Beku
Mai Mareyalu Santhosha Beku Odanatada Ullasa Beku
Manasugala Milanadali Hosa Vega Thumbirali
Snehakke Onde Maathu Hrudayagalu Aado Maathu
Ee Mouna Innu Ethake Seruvaa Aaduvaa Haaduva
Darigalu Serodu Omme Agalikeyu Nodalli Munde
Jothe Iruva Kshanakala Haadu Ulivudu Nenaponde Munde
Jeevagale Sukha Kodalu Youwwanave Nage Gadalu
Snehakke Onde Maathu Hrudayagalu Aado Maathu
Ee Mouna Innu Ethake Seruvaa Aaduvaa Haaduva
Ee Sanje Hoththalli Nannalli Ninnalli Mathella Kannalli
Snehakke Onde Maathu Hrudayagalu Aado Maathu
Ee Mouna Innu Ethake Seruvaa Aaduvaa Haaduvaa
Comments
comments