May 14, 2018
Aadona Neenu Naanu Lyrics | Kasturi Nivasa
Aadona Neenu Naanu Lyrics | Kasturi Nivasa: Aadona Neenu Naanu is a song from the 1971 Kannada movie Kasturi Nivasa [Kasthuri Niavasa], directed by the duo Dorai-Bhagavan. The film was produced by K. C. N. Gowda under the banner Anupam Movies.
Kasturi Nivasa features Annavru Dr. Rajkumar, Rajashankar, Jayanthi, K. S. Ashwath, Aarathi, Balakrishna, Narasimharaju, Vijayasree, Shyam, Ashwathanarayana, Surekha, Baby Rani, Baby Lalita and others. The film was remade in Tamil as Avanthan Manithan (1975)featuring Chevaliar Sivaji Ganesan and in Hindi as Shandaar (1974) where Sanjeev Kumar played the lead role.
Saregama was the music label of this movie. This song was composed by G. K. Venkatesh with lyrics penned by Vijaya Narasimha. Aadona Neenu Naanu song was rendered by great P. B. Sreenivas.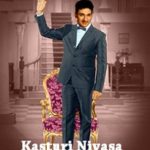 Aadona Neenu Naanu Lyrics
Movie: Kasturi Nivasa [1971]
Music Label: Saregama
Music: G. K. Venkatesh
Lyrics: Vijaya Narasimha
Singer: P. B. Sreenivas
Check out the lyrics here..
Aadona Neenu Naanu
Enna Aase Taare Neenu
Nodi Ninna Anda Chanda
Chandamama Naachi Ninda
Aadona Neenu Naanu
Enna Aase Taare Neenu
Nodi Ninna Anda Chanda
Chandamama Naachi Ninda
Aa Chandamama Naachi Ninda
Kannaa Gombe Neenaade
Ninnaa Kaigombe Naanaade
Ninnanda Muddaadalende
Bandide Kannalli Nidde
Ennede Nee Meeti Bande
Baalina Bandhana Nee Tande
Aadona Neenu Naanu
Enna Aase Taare Neenu
Nodi Ninna Ee Anda Chanda
Aa Chandamama Naachi Ninda
Illi Chelluvaagi Naguve
Allee Karulanne Midive
Haagu Heegu Seleve
Naa Ninna Kaigombe Allave
Nee Nenna Usiraade Maguve
Devara Ninnalli Kaanuve
Aadona Neenu Naanu
Enna Aase Taare Neenu
Nodi Ninna Ee Anda Chanda
Aa Chandamama Naachi Ninda
Kasturi Nivasa Songs
Aadisi Nodu Beelisi Nodu
Elle Iru Hege Iru
Aadisidaata Besara Moodi
Aadona Neenu Naanu
Nee Bandu Ninthaaga
Oh Geleya
Comments
comments