May 14, 2018
Elle Iru Hege Iru Lyrics | Kasturi Nivasa
Elle Iru Hege Iru Lyrics | Kasturi Nivasa: Elle Iru Hege Iru is a song from the 1971 Kannada movie Kasturi Nivasa [Kasthuri Niavasa], directed by the duo Dorai-Bhagavan. The film was produced by K. C. N. Gowda under the banner Anupam Movies.
Kasturi Nivasa features Annavru Dr. Rajkumar, Rajashankar, Jayanthi, K. S. Ashwath, Aarathi, Balakrishna, Narasimharaju, Vijayasree, Shyam, Ashwathanarayana, Surekha, Baby Rani, Baby Lalita and others. The film was remade in Tamil as Avanthan Manithan (1975)featuring Chevaliar Sivaji Ganesan and in Hindi as Shandaar (1974) where Sanjeev Kumar played the lead role.
Saregama was the music label of this movie. This song was composed by G. K. Venkatesh with lyrics penned by Chi. Udaya Shankar. Elle Iru Hege Iru song was rendered by iconic singer P. Susheela.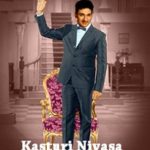 Elle Iru Hege Iru Lyrics
Movie: Kasturi Nivasa [1971]
Music Label: Saregama
Music: G. K. Venkatesh
Lyrics: Chi. Udaya Shankar
Singer: P. Susheela
Check out the lyrics here..
Elle Iru Hege Iru
Endendu Manadalli
Nee Thumbiru
Elle Iru Hege Iru
Endendu Manadalli
Nee Thumbiru
Baalemba Gudige Nee Devanaade
Karunaalu Neenu Aadhaaravaade
Baalemba Gudige Nee Devanaade
Karunaalu Neenu Aadhaaravaade
Naa Bedalaare Varavenanu
Nee Needu Saaku Nageyondanu
Elle Iru Hege Iru
Endendu Manadalli
Nee Thumbiru
Nannaase Nooru Hoovaagi Nagalu
Hoomaale Maadi Ninagende Tharalu
Nannaase Nooru Hoovaagi Nagalu
Hoomaale Maadi Ninagende Tharalu
Kanthumba Kande Aa Roopavaa
Belakaagi Banda Deepava
Elle Iru Hege Iru
Endendu Manadalli
Nee Thumbiru
Elle Iru Hege Iru
Endendu Manadalli
Nee Thumbiru
Kasturi Nivasa Songs
Aadisi Nodu Beelisi Nodu
Elle Iru Hege Iru
Aadisidaata Besara Moodi
Aadona Neenu Naanu
Nee Bandu Ninthaaga
Oh Geleya
Comments
comments