May 14, 2018
Oh Geleya Lyrics | Kasturi Nivasa
Oh Geleya Lyrics | Kasturi Nivasa: Oh Geleya Ee Daari Maretheya is a song from the 1971 Kannada movie Kasturi Nivasa [Kasthuri Niavasa], directed by the duo Dorai-Bhagavan. The film was produced by K. C. N. Gowda under the banner Anupam Movies.
Kasturi Nivasa features Annavru Dr. Rajkumar, Rajashankar, Jayanthi, K. S. Ashwath, Aarathi, Balakrishna, Narasimharaju, Vijayasree, Shyam, Ashwathanarayana, Surekha, Baby Rani, Baby Lalita and others. The film was remade in Tamil as Avanthan Manithan (1975) featuring Chevaliar Sivaji Ganesan and in Hindi as Shandaar (1974) where Sanjeev Kumar played the lead role.
Saregama was the music label of this movie. This song was composed by G. K. Venkatesh with lyrics penned by R. N. Jayagopal. Oh Geleya Ee Daari Maretheya song was rendered by singer L. R. Eswari.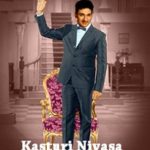 Oh Geleya Lyrics
Movie: Kasturi Nivasa [1971]
Music Label: Saregama
Music: G. K. Venkatesh
Lyrics: R. N. Jayagopal
Singer: L. R. Eswari
Check out the lyrics here..
O Geleya.. Ee Daari Maretheya
Illi Naa Kaadihe Aritheya
Baa Bega.. Manadiniyaa
O Geleya.. Ee Daari Maretheya
Illi Naa Kaadihe Aritheya
Baa Bega.. Manadiniyaa
Balukuvaa Hennidu Kusuma Komala
Holeyuva Kannidu Chapala Chanchala
Balukuvaa Hennidu Kusuma Komala
Holeyuva Kannidu Chapala Chanchala
Ninnaseyellaa Pooraisaballa
Nannallee Bere Jagava Mare Manadiniya
O Geleya.. Ee Daari Maretheya
Illi Naa Kaadihe Aritheya
Baa Bega.. Manadiniyaa
Mugiyada Maathanu Mugisalendu Baa
Mareyada Aanubhava Padeyalendu Baa
Mugiyada Maathanu Mugisalendu Baa
Mareyada Aanubhava Padeyalendu Baa
Nidhaanaveke Vinoda Beke
Ee Samaya Idu Sarasamaya Manadiniya
O Geleya.. Ee Daari Maretheya
Illi Naa Kaadihe Aritheya
Baa Bega.. Manadiniyaa
Kasturi Nivasa Songs
Aadisi Nodu Beelisi Nodu
Elle Iru Hege Iru
Aadisidaata Besara Moodi
Aadona Neenu Naanu
Nee Bandu Ninthaaga
Oh Geleya
Comments
comments