May 14, 2018
Nee Bandu Ninthaaga Lyrics | Kasturi Nivasa
Nee Bandu Ninthaaga Lyrics | Kasturi Nivasa: Nee Bandu Ninthaaga is a song from the 1971 Kannada movie Kasturi Nivasa [Kasthuri Niavasa], directed by the duo Dorai-Bhagavan. The film was produced by K. C. N. Gowda under the banner Anupam Movies.
Kasturi Nivasa features Annavru Dr. Rajkumar, Rajashankar, Jayanthi, K. S. Ashwath, Aarathi, Balakrishna, Narasimharaju, Vijayasree, Shyam, Ashwathanarayana, Surekha, Baby Rani, Baby Lalita and others. The film was remade in Tamil as Avanthan Manithan (1975)featuring Chevaliar Sivaji Ganesan and in Hindi as Shandaar (1974) where Sanjeev Kumar played the lead role.
Saregama was the music label of this movie. This song was composed by G. K. Venkatesh with lyrics penned by R. N. Jayagopal. Nee Bandu Ninthaaga song was rendered by legendary playback singers P. Susheela and P. B. Sreenivas.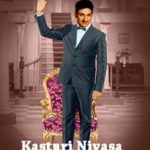 Nee Bandu Ninthaaga Lyrics
Movie: Kasturi Nivasa [1971]
Music Label: Saregama
Music: G. K. Venkatesh
Lyrics: R. N. Jayagopal
Singers: P. Susheela, P. B. Sreenivas
Check out the lyrics here..
Nee Bandu Ninthaaga
Ninthu Nee Nakkaaga
Nakku Nee Seledaaga
Sothe Naanaaga
Nee Bandu Ninthaaga Aha
Ninthu Nee Nakkaaga Aha
Nakku Nee Seledaaga Aha
Sothe Naanaaga Aha..
Ahaha Hmhm
Vaasanthi Nalidaaga..aa..
Vaasanthi Nalidaaga Hasiruttu Naguvaaga
Vanadevi Adimele Adiyittu Nadevaaga
Mugilondu Karedaaga Navilondu Meredaaga
Odalalli Hosadondu Navajeeva Bandaaga
Kai Kai Sokaaga Manaveredu Berethaaga
Mididantha Hosaraaga Aduve Anuraaga… Baaraa
Jenantha Maathalli..ee..
Jenantha Maathalli Kudiganna Sanchalli
Naguvemba Hoochelli Ninthe Nee Manadalli
Eduraade Hagalalli Mareyaade Irulalli
Neethanda Novige Koneyalli Modalelli
Baludoora Nee Hogenaa Thaale Ee Bege
Baa Baare Celuve Baare Olave… Baaraa
Baalemba Pathadalli..Ee..
Baalemba Pathadalli Olavemba Rathadalli
Kanasellaa Nanasaagi Nanasellaa Sogasaagi
Yugavoondu Dinavaagi Dinavoondu Kshanavaagi
Nammaase Hoovaagi Impaada Haadaagi
Kahiyalli Sihiyalli Maleyalli Bisilalli
Endendu Joteyaagi Nadevaa Ondaagi… Baaraa
Nee Bandu Ninthaaga
Ninthu Nee Nakkaaga
Nakku Nee Seledaaga
Sothe Naanaaga
Kasturi Nivasa Songs
Aadisi Nodu Beelisi Nodu
Elle Iru Hege Iru
Aadisidaata Besara Moodi
Aadona Neenu Naanu
Nee Bandu Ninthaaga
Oh Geleya
Comments
comments