September 24, 2018
Cheluve Oh Cheluve Lyrics | Ibbani Karagithu
Cheluve Oh Cheluve Lyrics | Ibbani Karagithu: Cheluve Oh Cheluve is a song rendered by playback singers S. P. Balasubrahmanyam and S. Janaki for the movie Ibbani Karagithu released in 1983. The film was directed by K. V. Jayaram and produced by Mohan under the banner Varalakshmi Movies. It is based on the novel of the same name by Saisuthe.
Ibbani Karagithu features Ananth Nag, Lakshmi, Deepa, K. S. Ashwath, Balakrishna, Leelavathi, Sundar Krishna Urs, Musuri Krishna Murthy, Mysore Lokesh, Umesh, Prathap, Jaggesh, G. Chandrashekar and others. Sangeetha Music is the music label of this movie. This song was composed by Rajan-Nagendra with lyrics penned by Chi. Udaya Shankar.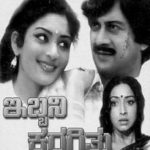 Cheluve Oh Cheluve Lyrics
Movie: Ibbani Karagithu [1983]
Music Label: Sangeetha Music
Music: Rajan-Nagendra
Lyrics: Chi. Udaya Shankar
Singers: S. P. Balasubrahmanyam, S. Janaki
Check out the lyrics here..
Cheluve Oh Cheluve Nijava Naa Nudive
Olavu Moodidaga Hrudaya Haadidaga
Dinavu Ullasavene Baduku Aananda Thane
Cheluva Oh Cheluva Nudive Naa Nijava Naa
Olavu Moodidaga Hrudaya Haadidaga
Dinavu Ullasavene Baduku Aananda Thaane
Cheluve Oh Cheluve Nijava Naa Nudive
Manava Seri Hode Sukhada Sangeethavade
Belagina Manjalli Bandaga Hedarutha Naa Bechchi Ninthe
Kannu Kaanade Hode Neenu Kannagi Bande
Nudiyuva Matella Muththante
Gunadali Nee Chinnavante
Ninna Serida Mele Innu Nanagilla Chinthe
Nanaane Jeeva Neene Jaane
Cheluve Oh Cheluve Nijava Naa Nudive
Olavu Moodidaga Hrudaya Haadidaga
Dinavu Ullasavene Baduku Aananda Thaane
Cheluva Oh Cheluva Nudive Naa Nudive Naa Nijava
Manava Seri Hode Sukhada Sangeethavade
Bayasade Oo Nalla Neenaagi Sadagara Baalalli Thande
Ninna Maathige Soothe Naane Sereyadi Hode
Badukali Solemba Maathilla Nannanu Nee Seridaage
Geluve Kaanuve Endu Nambu Nee Nanna Indu
Nannalli Praana Neene Jaana
Cheluva Oh Cheluva Nudive Naa Nijava Naa
Olavu Moodidaga Hrudaya Haadidaga
Dinavu Ullasavene Baduku Aananda Thaane
Cheluve Oh Cheluve Nijava Naa Nudive
Manava Seri Hode Sukhada Sangeethavade
Ibbani Karagithu [1983] Songs
Thanu Ninnadu
Nanna Kannali Ninna Bimbave
Cheluve Oh Cheluve
Thangiye Kelamma
Habba Habba
Comments
comments