September 24, 2018
Nanna Kannali Ninna Bimbave Lyrics | Ibbani Karagithu
Nanna Kannali Ninna Bimbave Lyrics | Ibbani Karagithu: Nanna Kannali Ninna Bimbave is a song rendered by playback singer S. Janaki for the movie Ibbani Karagithu released in 1983. The film was directed by K. V. Jayaram and produced by Mohan under the banner Varalakshmi Movies. It is based on the novel of the same name by Saisuthe.
Ibbani Karagithu features Ananth Nag, Lakshmi, Deepa, K. S. Ashwath, Balakrishna, Leelavathi, Sundar Krishna Urs, Musuri Krishna Murthy, Mysore Lokesh, Umesh, Prathap, Jaggesh, G. Chandrashekar and others. Sangeetha Music is the music label of this movie. This song was composed by Rajan-Nagendra with lyrics penned by Chi. Udaya Shankar.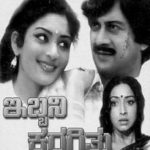 Nanna Kannali Ninna Bimbave Lyrics
Movie: Ibbani Karagithu [1983]
Music Label: Sangeetha Music
Music: Rajan-Nagendra
Lyrics: Chi. Udaya Shankar
Singer: S. Janaki
Check out the lyrics here..
Nanna Kannalli Ninna Bimbave
Nannna Manasalli Ninna Roopave
Annayya Ellellu Ninne Kaanuve
Annayya Ellellu Ninne Kaanuve
Ninna Premava Vatsalyava Mareyoke Saadyve Nanna Daivave
Nanna Kannalli Ninna Bimbave
Nannna Manasalli Ninna Roopave
Annayya Ellellu Ninne Kaanuve
Annayya Ellellu Ninne Kaanuve
Aa Soorya Aakasha Mareyudunte
Aa Chandra Baanannu Thoreyodunte
Naidileyu Neerirade Badukodunte
Lathe Gondu Aadhara Maravadare
Maravannu Balasutta Hoo Bittare
Nelavannu Agaloke Adu Saadyave
Nee Nanage Neralanthe Iruve Ninnannu Naa Hege Mareve Hooo
Nanna Kannalli Ninna Bimbave
Nannna Manasalli Ninna Roopave
Annayya Ellellu Ninne Kaanuve
Annayya Ellellu Ninne Kaanuve
Ninna Premava Vatsalyava Mareyoke Saadyve Nanna Daivave
Nanna Kannalli Ninna Bimbave
Nannna Manasalli Ninna Roopave
Annayya Ellellu Neene Kaanuve
Annayya Ellellu Ninne Kaanuve
Thayanthe Aaraike Nee Maadide
Nee Thandeya Haage Nana Saakide
Guruvante Arivannu Nee Needide
Ee Thangi Sukhagaagi Nee Baalide
Ee Henna Hithakagi Nee Hadide
Badukella Santhosha Nee Thumbide
Ninaginta Paradaivavilla Neenirade Ee Thangi Illa
Nanna Kannalli Ninna Bimbave
Nannna Manasalli Ninna Roopave
Annayya Ellellu Neene Kaanuve
Annayya Ellellu Ninne Kaanuve
Ninna Premava Vatsalyava Mareyoke Saadyve Nanna Daivave
Nanna Kannalli Ninna Bimbave
Nannna Manasalli Ninna Roopave
Annayya Ellellu Neene Kaanuve
Annayya Ellellu Ninne Kaanuve
Ibbani Karagithu [1983] Songs
Thanu Ninnadu
Nanna Kannali Ninna Bimbave
Cheluve Oh Cheluve
Thangiye Kelamma
Habba Habba
Comments
comments