September 10, 2017
Sobagu Sobagu Lyrics
Sobagu Sobagu Lyrics: Sobagu Sobagu is a song from an upcoming 2017 Kannada movie Raja Loves Radhe, written and directed by Rajashekhar. Raja Loves Radhe features Vijay Raghavendra, Radhika Preeti, Shubha Poonja, Ravi Shankar, Tabla Nani, Sunil, Shobharaj, Bhavya and others. C Music-A is the music label of this movie. This song was composed by Veer Samarth with lyrics written by K. Kalyan. Sobagu Sobagu was rendered by Tippu, Anuradha Bhat.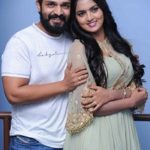 Sobagu Sobagu Lyrics
Movie: Raja Loves Radhe [2017]
Music Label: C Music-A
Music: Veer Samarth
Lyrics: K. Kalyan
Singers: Tippu, Anuradha Bhat
Check out the lyrics here..
Sobagu Sobagu Ee Sobagu
Kande Illa Iduvaregu
Intha Preethiya Eduralli
Hrudayaveega Nibberagu
Maayagara Vayasidu Chinna
Kaapadu Nannanna
Maaruveshadalliro Manasu
Maaya Maadthu Maiyyanna
Gandhana Savidare Ghama Ghama
Andana Savidare Sama Sama
Muddada Thutiyinda Hora Barade
Hosa Pranayada Geetheya Saregama
Sobagu Sobagu Ee Sobagu
Kande Illa Iduvaregu
Intha Preethiya Eduralli
Hrudayaveega Nibberagu
Ninna Kannina Olage Untu
Nanna Entane Adbhuthavu
Saalu Kattida Kanasugalinda
Kachchi Kollo Aamishavu
Edege Avuchi Kottiro Muththu
Kotiginthalu Bele Jaasthi
Enisi Chelluva Mugulunageye
Yelu Janma Sthira Aasthi
Gandhana Savidare Ghama Ghama
Andana Savidare Sama Sama
Muddada Thutiyinda Hora Barali
Hosa Pranayada Geetheya Saregama
Achcha Kannada Vyakaranadali
Dinavu Ninna Preethisuve
Yava Sandhi Samasavirali
Bandhiyaagi Vaasisuve
Nooru Chandrana Hunnime Belaka
Holuvanthide Ninna Mukha
Adanu Gellalu Hodagella
Sothu Biduvude Bere Sukha
Gandhana Savidare Ghama Ghama
Andana Savidare Sama Sama
Muddada Thutiyinda Hora Barali
Hosa Pranayada Geetheya Saregama
Raja Loves Radhe Songs
Sobagu Sobagu
One Day Morning
Kanasalli Bandare
Nooru Galli
Save
Save
Save
Comments
comments