November 8, 2017
Suriva Maleyali Lyrics
Suriva Maleyali Lyrics: Suriva Maleyali is a song from the 1994 Kannada movie Swathi, directed by Shivamani and produced by S. Shailendra Babu. Swathi features Sudharani, Shashikumar, Vajramuni, Avinash, Umashree, Shivaram, Tennis Krishna, B. V. Radha, Sundar Krishna Urs, Bank Janardhan and others. Akash Audio is the music label of this movie. This song was composed by M. M. Keeravani with lyrics penned by Shyamsundar Kulkarni. Suriva Maleyali was rendered by S. P. Balasubrahmanyam and K. S. Chithra.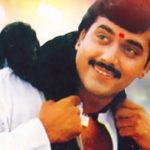 Suriva Maleyali Lyrics
Movie: Swathi [1994]
Music Label: Akash Audio
Music: M. M. Keeravani
Lyrics: Shyamsundar Kulkarni
Singers: S. P. Balasubrahmanyam, K. S. Chithra
Check out the lyrics here..
Suriva Maleyali Koreyuva Chali Chali
Bereva Bayakeyu Ninnaya Tholali
Ontiyaagihe Baare Nee Preethisu Manasaare
Bega Nannanu Sere Naa Thaalenu Jaladhaare
Ee Chumbana Romaanchana
Suriva Maleyali Koreyuva Chali Chali
Bereva Bayakeyu Ninnaya Tholali
Badukali Hosathu Belaku Thori Balige Neenu Selede
Preethiya Madhura Maleya Sukhada Sudheya Indu Savide
Parichaya Premavaayithu Salugeyu Moodithu
Hrudayavu Koogi Haadith Nidireyu Haarithu
Ee Preethiya Ee Sethuve Serada Dadagala Beseyithu
Suriva Maleyali Koreyuva Chali Chali
Bereva Bayakeyu Ninnaya Tholali
Olavina Jagada Siriya Geleya Ninna Sangha Padede
Malagida Bayake Hedeya Kenaki Manava Neenu Midide
Milanada Bhaava Kaadithu Samyama Jaarithu
Elle Mere Meerithu Thanuvidu Serithu
Sangaathiya Santhoshadi Nannaya Baalina Aaseyu
Suriva Maleyali Koreyuva Chali Chali
Bereva Bayakeyu Ninnaya Tholali
Ontiyaagihe Baaro Nee Preethisu Manasaare
Ee Chumbana Romaanchana Ee Chumbana Romaanchana
Swathi Songs
Kuhu Kuhu Haaduva
Panjarada O Giniye
Panjarada O Giliye
Parade Yetthi Panneera Chelli
Suriva Maleyali
Comments
comments