April 14, 2018
Thananana Naa Haaduve Song Lyrics
Thananana Naa Haaduve Song Lyrics: Thananana Naa Haaduve is a song from the 1990 Kannada film Mathe Hadithu Kogile [Matthe Haadithu Kogile], directed by H. R. Bhargava and written by Chi. Udayashankar. The film was produced by S Shankar under the banner Sri Shankari Productions. Mathe Hadithu Kogile features Vishnuvardhan, Ananth Nag, Bhavya, Roopini, Baby Shyamili, Ramesh Bhat, Mukyamanthri Chandru, Doddanna, Mysore Lokesh, Saikumar, Ashok Rao, Rajanand, Ashok Rao, Rajanand, Seetharam, Shankar Bhat, Lamani, Rathnakar, Horse Babu, Ravindra, Shani Mahadevappa, Manjayya, Mico Seetharam, Jagadish Malnad, Shankar Bhat, Asha, Madhushree, Premalatha, Saroja, Jayanthi, Shanthamma, Lalithashree and others.
Lahari Music is the music label of this movie. This song was composed by Rajan-Nagendra with lyrics penned by Chi. Udayashankar. Thananana Naa Haaduve song was rendered by S. P. Balasubrahmanyam and S. Janaki.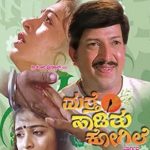 Thananana Naa Haaduve Lyrics
Movie: Matthe Hadithu Kogile [1990]
Music Label: Lahari Music
Music: Rajan-Nagendra
Lyrics: Chi. Udayashankar
Singers: S. P. Balasubramanyam, S. Janaki
Check out the lyrics here..
Kokkokoko Koho Kokkokoko Koho
Tharaththa Thaara Tharaththa Thaara
Zoo Zooz Zoo Zoo Zooz Zoo |3|
Pasani Paga Pasani Paga
Panida Paga Panida Paga
Da Da La La Da Da La La Da Da La La
Jum Chaka Jum Chaka Jum Chaka Jum Chaka
Thananana Haaduve Thaithaka Kuniyuve
Ninnanthe Naaneega Aaduve
Naavu Jothyeaagi Eega Hithavaagi
Kannigaanada Thumbuva..
Thananana Naa Haaduve Thaithaka Kuniyuve
Thananana Haaduve
Ninnanthe Naaneega Aaduve
Zoo Zooz Zoo Zoo Zooz Zoo |2|
Chikkoru Aadarenu Doddoru Aadarenu
Santhosha Bayasore Ella
Chikkoru Aadarenu Doddoru Aadarenu
Santhosha Bayasore Ella
Saradsadi Bereyutha Nakku Naliyore Ella
A.. Disco Dance Maadalenu
Twist break Maadalenu
Enenu Bekendu Heli
Kunisuve Nimmanu Nanna Jotheyalli Nodi
Nanna Jotheyalli Nodi
Kokkoo…
Thananana Haaduve Thaithaka Kuniyuve
Ninnanthe Naaneega Aaduve
Naavu Jothyeaagi Eega Hithavaagi
Kannigaanada Thumbuva
Thananana Naa Haaduve Thaithaka Kuniyuve
Thananana Haaduve
Ninnanthe Naaneega Aaduve
Manasalli Iruva Chinthe Mareyona Ennuvanthe
Ondagi Kaithattabeku
Manasalli Iruva Chinthe Mareyona Ennuvanthe
Ondagi Kaithattabeku
Preethiye Devaru Endu Kunidaadabeku
Kallu Neerago Haage Moggu Hoovaago Haage
Sangeethava Haadabeku
Kanasina Lokadi Ella Thelaadabeku
Ella Thelaadabeku
Thananana Haaduve Thaithaka Kuniyuve
Ninnanthe Naaneega Aaduve
Naavu Jothyeaagi Eega Hithavaagi
Kannigaanada Thumbuva
Thananana Naa Haaduve Thaithaka Kuniyuve
Thananana Haaduve
Ninnanthe Naaneega Aaduve
Mathe Hadithu Kogile Songs
Baa Nanna Sangeetha
Nimmannu Kandaagale
Nava Vasanthada Gaali Beesalu
Haaduva Aase Haadadu Yeko
Thananana Naa Haaduve
Naanindu Ninninda Ananada Nodide
Comments
comments