June 12, 2018
Thanni Kudam Edhuthu Lyrics | Vaigasi Poranthachu
Thanni Kudam Edhuthu Lyrics | Vaigasi Poranthachu: Thanni Kudam Edhuthu is a song from the Tamil movie Vaigasi Poranthachu released in 1990. The film was directed by Radha Bharathi and produced by K. Prabhakaran under the banner Anbalaya Films.
Vaigasi Poranthachu features Prashanth in his debut, Kaveri, K. R. Vijaya, Sulakshana, Janagaraj, Charle, Chinni Jayanth, Sangeetha, K. Prabhakaran, Kumarimuthu, Cochin Haneefa and others. The film was remade in Hindi as I Love You.
The music label of this movie is Pyramid. This song was composed by music director Deva with lyrics penned by Kalidasan. Thanni Kudam Edhuthu song was rendered by playback singer S. P. Balasubrahmanyam.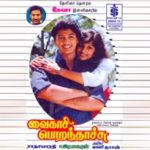 Thanni Kudam Yedhuthu Lyrics
Movie: Vaigasi Poranthachu [1990]
Music Label: Pyramid
Music: Deva
Lyrics: Kalidasan
Singer: S. P. Balasubrahmanyam
Check out the lyrics here..
Anbe Saranam
Azhage Saranam
Aaruyire Saranam
Kakara Mudhala Ezhuthellam
Kaadhaldhaane Bagavaan Namakku
Karka Kasadra Kalki Kumudham
Katra Pinn Virka Paathi Vilaikku
Karthika Kanaga Reka Gauthami
Amala.. Roopini Ranjani
Rohini Sithaara
Eedu Illai Unakku
Thanni Kodam Eduthu
Thanga Nee Nadandhu Vandhaal
Thavikudhu Manasu Thavikudhu
Hoi
Ada Thanni Kodam Eduthu
Thanga Nee Nadandhu Vandhaal
Thavikudhu Manasu Thavikudhu
Thanni Kodam Eduthu
Thanga Meen Nadandhu Vandhaal
Thavikudhu Manasu Thavikudhu
Adi Santhana Kodathu Thaene
Naan Santhicha Azhaghu Maane
Malaradha Malligai Poove
Konjam Manam Irangu
Thanni Kodam Eduthu
Thanga Meen Nadandhu Vandhaal
Thavikuthu Manasu Thavikudhu Haan
Adi Thalukku Sundariyae
Nee Enthiri Enthiriyae
Maarappu Pottu Vandha
Manja Nera Poonguruvi
Poovaasam Kama Kamakka
Pongi Vantha Thaen Aruvi
Vambizhuthu Maatikittu
Vaai Kozhutha Pombala Nee
Vaala Thaan Suruttikittu
Kumbidu En Gumbala Nee
Then Madhurai Thaene
Ennai Paaraen Oru Paarvai
Kann Neranja Purushan
Adi Unakku Onnu Thaevai
Then Madhurai Thaene
Ennai Paaraen Oru Paarvai
Kann Neranja Purushan
Adi Unakkum Onnum Thaevai
Vaadi Maatu Ponnae
Nee Thaan En Veetu Ponnae
Tthanni Kodam Eduthu
Thanga Meen Nadandhu Vandhaal
Thavikudhu Manasu Thavikudhu
Hoi
Ada Thanni Kodam Eduthu
Thanga Meen Nadandhu Vandhaal
Thavikudhu Manasu Thavikudhu
Adi Santhana Kodathu Thaene
Naan Santhicha Azhaghu Maane
Malaratha Malligai Poove
Konjam Manam Irangu
Thanni Kodam Eduthu
Thanga Meen Nadandhu Vandhaal
Thavikudhu Manasu Thavikudhu
Hoi
Ada Thanni Kodam Eduthu
Thanga Meen Nadandhu Vandhaal
Thavikudhu Manasu Thavikudhappa
Vendi Vandha Bakthanai Nee
Vetti Vetti Muraikkanuma
Veppilaya Adichi Thaan
Vegathai Koraikanumaaa
Poo Potta Paadhathukku
Poosai Onnu Pannatuma
Poovarasi Manasukulla
Kaadhal Valai Pinnatuma
Budhiyile Kirukku
Adi Unakku Innum Irukku
Ukkaratha Irakku
Un Murukku Innum Ethukku
Budhiyile Kirukku
Adi Unakku Innum Irukku
Ukkaratha Irakku
Un Murukku Innum Ethukku
Vaala Aati Putta
Vagai Illama Maatikitta
Thanni Kodam Eduthu
Thanga Meen Nadandhu Vandhaal
Thavikudhu Manasu Thavikudhu
Thanni Kodam Eduthu
Thanga Nee Nadandhu Vandhaal
Thavikudhu Manasu Thavikudhu
Adi Santhana Kodathu Thaene
Naan Sandhicha Azhaghu Maane
Malaratha Malligai Poove
Konjam Manam Irangu
Thanni Kodam Eduthu
Thanga Nee Nadandhu Vandhaal
Thavikudhu Manasu Thavikudhu Han Han Han
Comments
comments